Strakhov-Braslaviskii, Adol'f Iosifovich
Страхов-Браславский, Адольф Иосифович


Born 1896, Ekaterinsolav, Russian Empire; died 1979, Kharkov, USSR

Adol'f Iosifovich Strakhov-Braslavskii attended the Odessa Art School where he studied from 1913 to 1915. From 1918 to 1921, he created political drawings for a number of newspapers and in this period, he also produced posters, dioramas and decorations for political celebrations. Throughout the Russian Civil War, Strakhov-Braslavskii contributed to the ROSTA (Russian Telegraph Agency) Windows office in the Don Basin. In 1921, he produced a series of thematic posters titled Azbuka revoliutsii [Revolutionary Affairs].  By the end of the civil war, he moved to Kharkov, Ukraine where he subsequently rose to the status of lead artist at the State Publishing House of Ukraine.

From 1922 to 1929, he was engaged book illustration in addition to his design work on posters. Strakhov-Braslavskii was awarded a gold medal in 1925 at the International Exhibition in Paris for his poster 1870-1924, a piece he created as a commemoration of Vladimir Lenin's death. This poster served as a prototype for the cover of the Russian edition of John Reed's book, Ten Days that Shook the World.

During the early 1930s, Strakhov-Braslavskii created posters filled with Stalinist-era "hero workers" with bodies and faces illustrated in a mottled, clay-like fashion. One such poster was his 1932 design for Denprostroi postroen [Dneprostroi Has Been Built]. Throughout the 1930s and until the beginning of the Second World War, he dedicated himself to sculpture. During the war, he returned to posters by creating anti-fascist propaganda. In 1944, Strakhov-Braslavskii was bestowed the title People's Artist of the USSR. At the end of the war, he returned to sculpture design and worked in that medium until his death.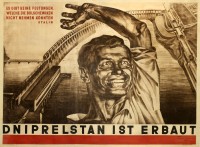 Sources & Citations
Groys, B., Hollein, M. (2003). Dream factory Communism: The visual culture of the Stalin era. Ostfildern-Ruit: Hatje Cantz. (bio, artist)
Vashik, K., & Baburina, N. (2003). Real'nost' utopii: Iskusstvo Russkogo plakat XX veka. Moscow: Progress-Traditsia. (pp. 129, 159, 364)
Bonnell, V. E. (1999). Iconography of power: Soviet political posters under Lenin and Stalin. Berkeley: University of California Press. (pp. 41, 146-147, 78; Analysis of Strakhov's poster of Lenin titled 1870-1924)
Baburina, N. I. (1988). The Soviet Political Poster, 1917-1980. New York: Penguin. (bio, artist)
Dickerman, L. (1996). Building the collective: Soviet graphic design, 1917-1937: selections from the Merrill C. Berman collection. New York: Princeton Architectural Press (bio, artist)
Butnik-Siverskii, B. S. (1960). Sovetskii plakat epokhi grazhdanskoi voiny, 1918-1921. Moskva: Izd-vo Vsesoiuznoi knizhnei palaty (pp. 149, 225, 436)