Terpsikhorov, Nikolai Borisovich
Терпсихоров, Николай Борисович


Born 1890, Saint Petersburg, Russian Empire; died 1960, Moscow, USSR

Although he was born in St. Petersburg, Nikolai Terpsikhorov spent the majority of his life in Moscow. He initially studied painting under the direction of Samuil Dudin, a founder of the Ethnographical Department of the Russian Museum in St. Petersburg. Terpsikhorov later studied under Konstantin Yuon (Juon), the noted theatre designer, and from 1907 to 1910 he was under the tutelage of Moscow painter Vasilii Meshkov. In 1911, Nikolai Terpsikhorov enrolled at the Moscow School of Painting, Sculpture, and Architecture. His teachers there included Nikolai Kasatkin and Viktor Vasnetsov, key figures in the art of romantic realism and reportedly, the founders of Socialist Realism -- an art form that was developed in the Soviet Union. Nikolai Terpsikhorov graduated from the Moscow School in 1917.

After the Russian Revolution of 1917, Terpsikhorov became a founding member of the Association of Artists of Revolutionary Russia (A.Kh.R.R.). His work was presented at the Exhibition of Soviet Art held in Harbin, China (1926) and in Japan (1927). His work was also included in the First Touring Exhibition of Painting and Graphics held in Moscow in 1929, and in the 1932 exhibition, Artists of the Russian Soviet Federated Socialist Republic over 15 Years that was held at the Russian Museum in Leningrad.

While principally regarded as a painter; Nikolai Terpsikhorov occasionally designed agitational posters. For example, he collaborated with the ROSTA (Russian Telegraph Agency) Studio designing their posters and his later designs from 1930 include: "Literate, teach the illiterate" (a poster for education and literacy); "Religion is poison, take care of children" (an anti-religious statement); and "Go to the collective farm", a significant poster heralding the rise of the female farmer in the Soviet Union as well as highlighting the government's struggle against anti-collectivization efforts.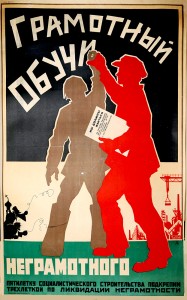 Sources & Citations
Bonnell, V. E. (1999). Iconography of power: Soviet political posters under Lenin and Stalin. Berkeley: University of California Press. (pp. 102 to 103, poster "Go to the collective farm" is detailed)
Milner, J. (1993). A dictionary of Russian and Soviet artists 1420-1970. Woodbridge: Antique Collectors' Club. (bio)
tramvaiiskusstv.ru (bio)