Vanetsian, Aram Vramshapu
Ванециан, Арам Врамшапу


Born January 21, 1901, Alexandropol (Armenia), Russian Empire; died August 20, 1971, Moscow, USSR

Aram Vramshapu Vanetsian was born in what is today the Armenian city of Gyumri. From 1915 to 1918, he studied at the Stroganov School for Technical Drawing, and from 1920 to 1923, Vanetsian attended the Moscow VKhUTEMAS (Higher Art and Technical Studios) where painting was his study concentration. The artist was a participant in the First Discussion Exhibition (Pervaia Diskussionnaia vystavka) of the Associations of Active Revolutionary Art held in the Moscow VKhUTEMAS during the spring and summer of 1924.

Of his portraits, the one he created in 1939 of the Russian writer and playwright Issac Babel turned out to be the last representation of the writer made during his lifetime. In 1940, Babel died in Moscow while serving time in Butyrka prison. During World War II, Vanetsian was sent to the front where he created battle sketches, portraits and combat leaflets. After the war, his primary work was in the illustration of books for Soviet publishing houses.

Aram Vanetsian illustrated books for the publishing houses of Goslitizdat (State Publishing House of Literature), Detgiz (Children's Publishing House), and Sovietskii Pisatel' (Soviet Writer). While his poster designs include political and advertising themes, he entered into graphic design late in his career working on posters beginning in the 1930s. His style was noted for its "simple compositions…, usually black and white, using one red color sheet." Two posters he created using this motif were "Long Live the Union of Workers and Peasants - the Basis of Soviet Power!" (1937) and "Long Live our Red Army and Navy!" (1938).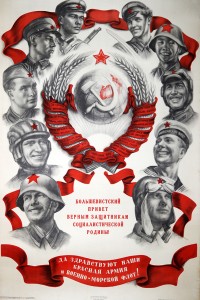 Sources & Citations
Bonnell, V. E. (1999). Iconography of power: Soviet political posters under Lenin and Stalin. Berkeley: University of California Press.
Milner, J. (1993). A dictionary of Russian and Soviet artists 1420-1970. Woodbridge: Antique Collectors' Club. (bio)
Pavlova, E. V. (1989). A. S. Pushkin v portretah = Pushkin a gallery of portraits. Moskva: Sovetskii Khudozhnik.
Artpanorama.su (bio)
tramvaiiskusstv.ru (bio)