Ziuli
Зюли
This artist used a pseudonym, or perhaps their surname. The artist is documented as having been from Kiev, Ukraine.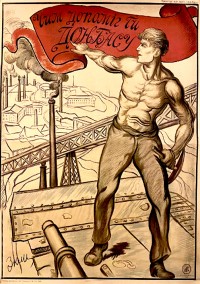 Sources & Citations
Belichko, U.V., & Kilesso, S. K. (1987). Mistetstvo narodzhene zhovtnem: Ukrainsʹke radiansʹke obrazotvorche mystetstvo ta arkhitektura 1917-1987. Kyïv:
Mystetstvo. (poster "Go to [the aid of] the Donbass!", cited); Soviet Posters of the era of the Civil War 1918-1921 by B.S. Butnik-Siverskii (1960), page 394, poster 2471.