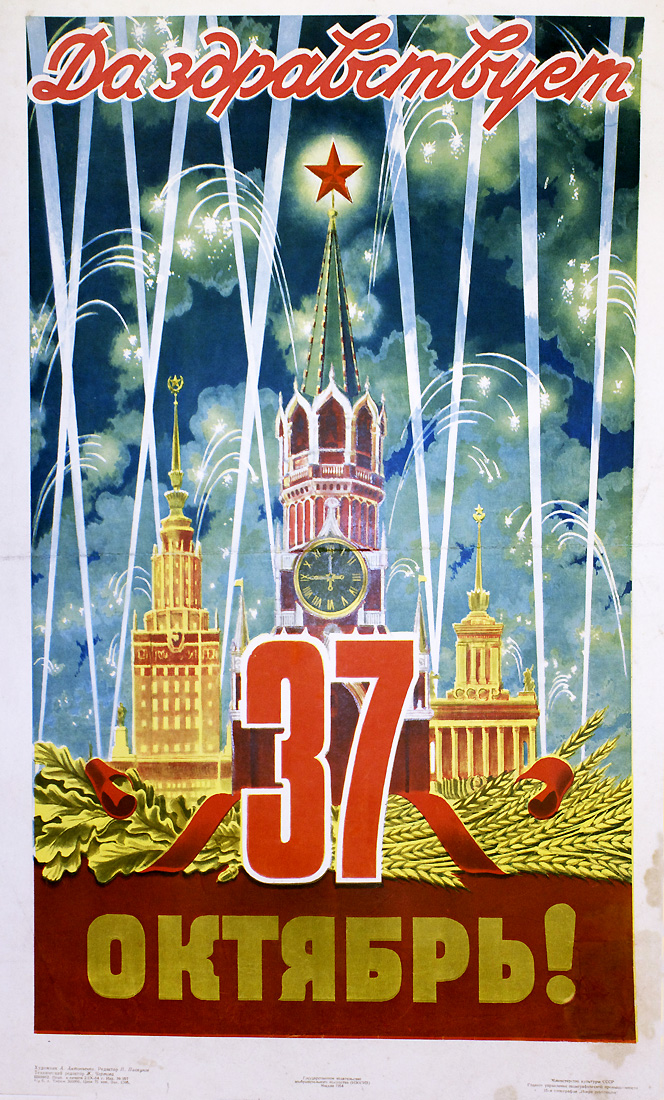 Artist: Antonchenko, Anatolii Antonovich — Антонченко, Анатолий Антонович
Anatolii Antonovich Antonchenko was a Soviet graphic artist. Prior to the Second World War, he worked in the artistic department for advertising artists of the All-Union Chamber of Commerce. After the war, the artist was a designer for the state company "Intourist", and he elaborated a number of advertising posters for them such as "Visit the USSR" (1958). In addition, Antonchenko designed packaging for Krasnii Oktiabr' (Red October) Confectionery in Moscow. From ...
Read More About This Artist
Printer: Iskra Revolutsii (Revolutionary Spark) Typography Workshop, Moscow — Типография Искра революции, Москва
Iskra Revolutsii was a Moscow printer that was also known as the 15th Iskra Revolutsii Typography Workshop. Over the decades, the printer was under a host of printing trusts such as Soiuzpoligrafprom (All-Union Association of Printing Enterprises) that handed jobs for the state publisher Glavizdat (Main Administration of Publishing Houses, Printing Industry and Book Trade). Iskra Revolutsii was also managed by Glavpoligrafizdat (Main Administration for Matters of Polygraphic Industry Publishing and Book Selling), a trust ...
Read More About This Printer
Publisher: IzoGiz (State Publishing House of Fine Art), Moscow — Изогиз (Государственное издательство изобразительного искусства), Москва
The history of IzoGiz begins with the formation of Ogiz, the Association of the State Book and Magazine Publishers. In 1930, the Sovnarkom of the Russian Socialist Federative Soviet Republic established Ogiz to centralize publishing under a monopoly in order to eliminate duplication of printed material, to streamline and control publishing production and its output, and to create a base for marketing books, training and technical manuals. In 1931, the Central Committee of the USSR ordered certain ...
Read More About This Publisher