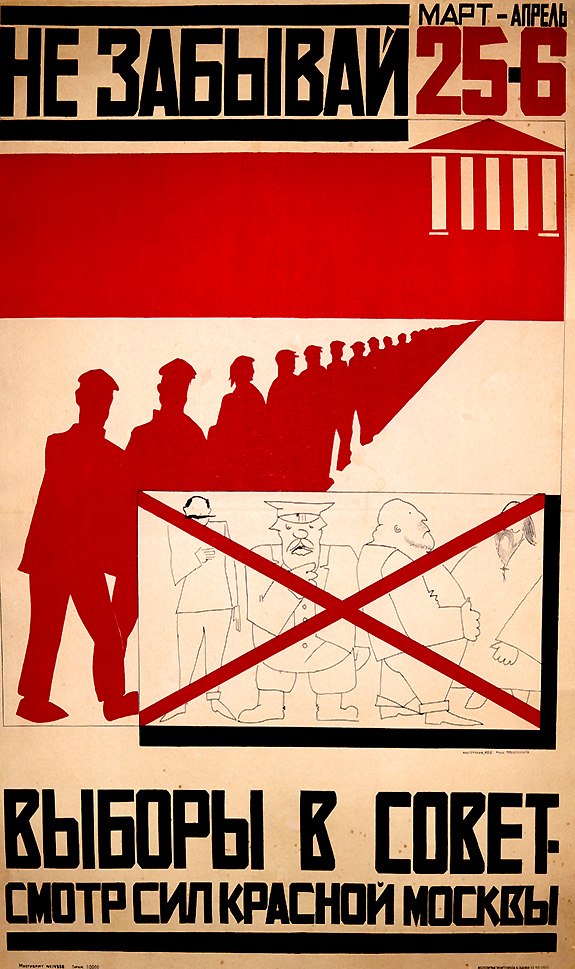 Artist: Proletkult (Proletarian Culture) Studios — Пролетарская Культура (Пролеткульт)
Proletarskaia Kultura (Proletarian Culture) was known by its portmanteau name, Proletkult. Created in 1917 by Alexandr Bogdanov, director of the Socialist Academy of Social Sciences (SAON); Proletkult was to provide the foundations of a new, worker-based art form, "liberated from bourgeois, pre-Soviet culture." Proletkult's manifesto was simple: 1) proletarian culture equals communism, 2) Proletkult is the responsibility of the Russian Communist Party, 3) proletariat class equals the Russian Communist Party that equals Soviet power. Mass-production and machine ...
Read More About This Artist
Printer: Mospoligraf (Moscow Polygraphic), Moscow — Мосполиграф, Москва
Mospoligraf was a state-owned printing trust located in Moscow. When the Soviet Union formulated a plan in 1921 to consolidate the nation's largest and best printing operators into state-owned trusts; Mospoligraf was organized in 1922 to carry out consolidation of the Moscow printing industry. With a staff of over two thousand, Mospoligraf was the second-largest printing trust organized in Moscow outside of the Mospechat' trust, and it oversaw a myriad of houses under local printing sections such...
Read More About This Printer
Publisher: Publisher not indicated —