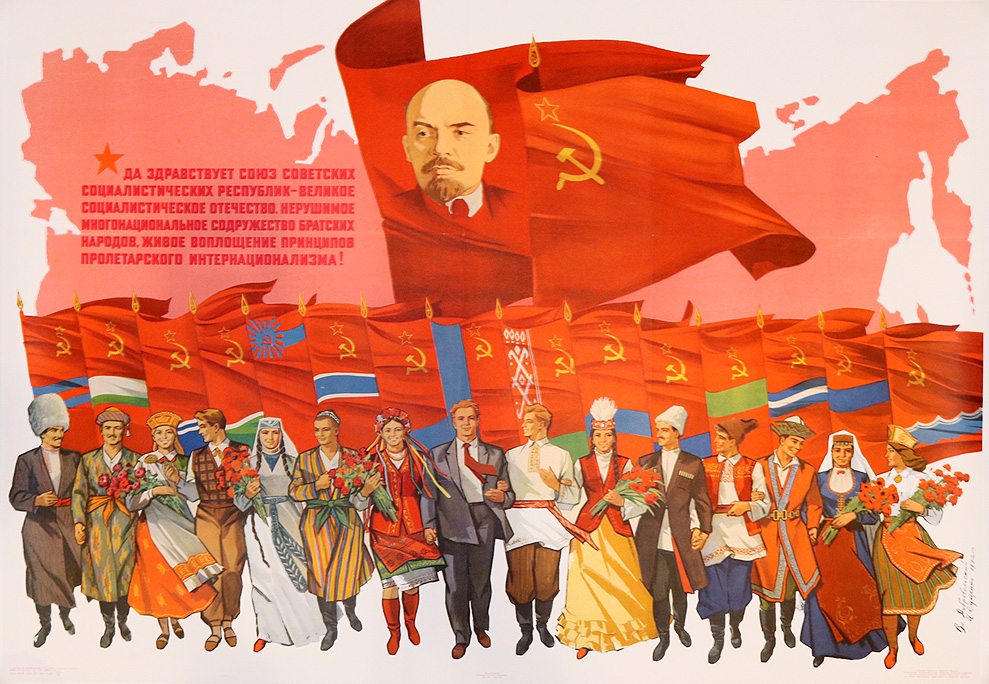 Artist: Dobrovol'skii, Vladimir Petrovich — Добровольский, Владимир Петрович
Vladimir Petrovich Dobrovol'skii was born in the Irkutsk Oblast in the town of Usolye-Sibirskoye located on the Angara River. Although he was never formally educated in art it was at an early age that he showed talent. From the 1930s until the 1970s, Dobrovol'skii contributed political caricature illustrations for the newspapers "Pravda" (Truth), "Komsomolskaya Pravda" (Komsomol Truth), "Izvestiya" (News), "Sovetskaya Rossiya" (Soviet Russia) in addition to the magazines "Krokodil" (Crocodile) and "Yunost" (Youth). During the 1960s, he partnered with the graphic artist Mark Abramov creating a series of political posters. Dobrovol'skii also worked for book publishers in the towns of Irkutsk and Perm. In 1974 he was bestowed the title "Honored Artist of the RSFSR".
The online index of USSR Artist Union members cites Dobrovol'skii's birth date as August 15, 1920.
Read More...
Artist: Sushchenko, Ivan Akimovich — Сущенко, Иван Акимович
Printer: Kalinin City Poligrafkombinat of Glavpoligrafprom —
The Kalinin Poligrafkombinat of Glavpoligrafprom was located at 5 Lenin Ave. (formerly Voroshilov Street) in Kalinin (now, Tver) a city northwest of Moscow. Poligrafkombinat is the portmanteau word for "printing plant". The plant was under the management of Glavpoligrafprom (Main Directorate of the Printing Industry) during the mid-1950s into the 1970s.
Read More...
Publisher: Izobrazitel'noe Iskusstvo (Fine Art Publishers) —
Izobrazitel'noe Iskusstvo was a publishing house dedicated to the fine arts. It produced monographs, books, textbooks and study guides all centered on the visual arts, as well as publishing postcards and posters. Prior to Izobrazitel'noe Iskusstvo's organization, Izogiz (State Publishing House of Fine Art) published the lion's share of fine arts material in the USSR.
Read More...