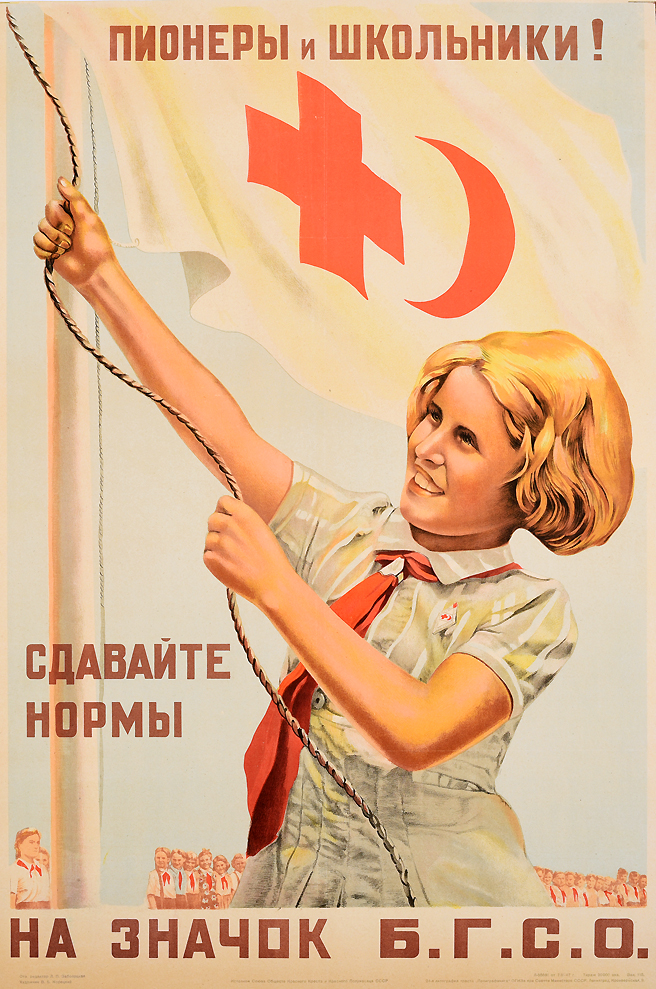 Artist: Koretskii, Viktor Borisovich (Koretsky, Victor) — Корецкий, Виктор Борисович
Of the photomontage poster artists of the 20th century, Viktor Borisovich Koretskii stands out as one of the most iconic. His prolific career in the Soviet Union began in the 1930s and ended in the 1980s, and his unique artistic style influenced generations of graphic artists. From 1921 to 1929, Viktor Koretskii attended the Moscow Secondary School of Professional Art, and by 1931 he was working as a professional graphic designer. Koretskii perfected his own technique of photomontage ...
Read More About This Artist
Printer: 24th Lithography Workshop of the Poligrafkniga Trust of Ogiz, Leningrad — 24-я типография ОГИЗа РСФСР треста Полиграфкнига, Ленинград
The 24th Lithography Workshop was located at Kronverkskaia and Mir Streets in Leningrad (St. Petersburg). Historically, the workshop had its roots in Imperial Russia and it was a large printing operation founded in 1881 by Theodore Kibbel (a.k.a. Fedor Fyodorovich Kibbel). Shortly after the printer was nationalized by the Soviets, it became the 1st State Lithography Workshop. In 1924, the workshop was named in honor of Mikhail Pavlovich Tomskii (1880-1936), head of the Soviet trade ...
Read More About This Printer
Publisher: Union of Red Cross and Red Crescent Societies of the USSR — Союз обществ Красного Креста и Красного Полумесяца СССР
As early as 1867, Imperial Russia had a relief society to primarily assist members of the military. In 1921, the International Red Cross recognized the Soviet Red Cross Society of Moscow as the singular Red Cross office in Russia at the time. By 1923, an amalgamation of the Union of Red Cross and Red Crescent Societies of the USSR took place. The merger incorporated 11 Red Cross societies along with four Red Crescent societies in the Soviet Republics. Activities ...
Read More About This Publisher