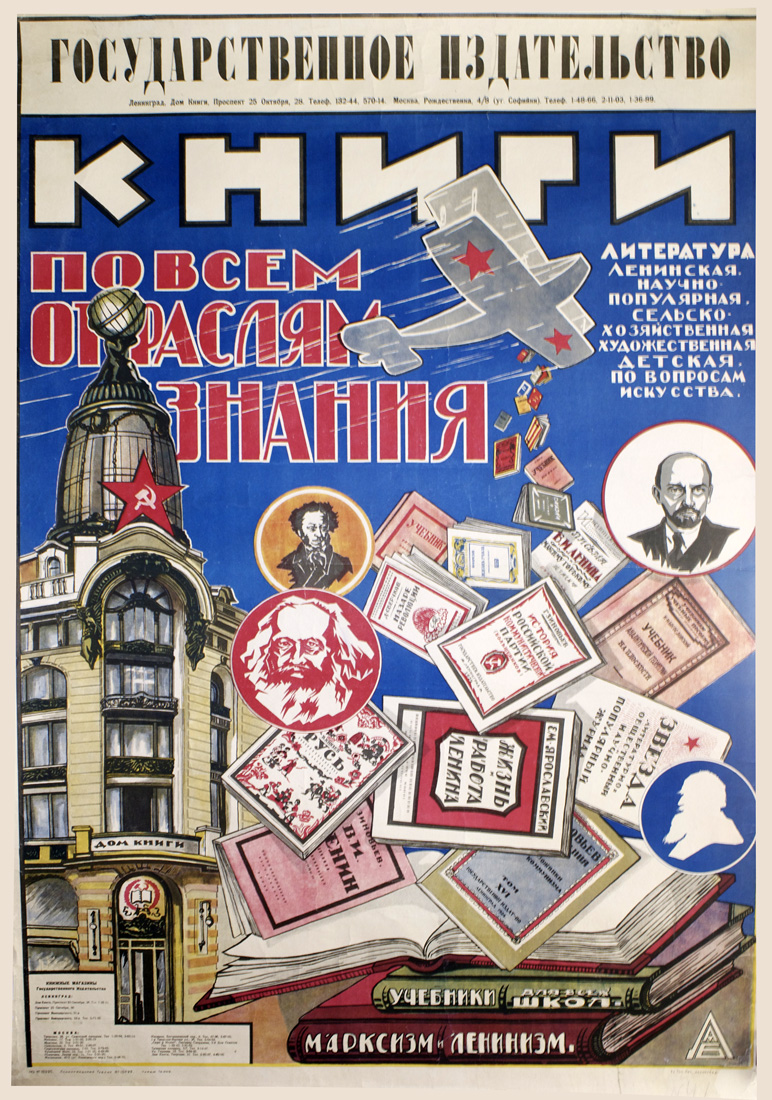 Printer: 1st State Lithography Workshop, Leningrad (formerly Kibbel) — 1-я государственная литография, Ленинград
The 1st State Lithography Workshop had its roots in Imperial Russia as a large printing house founded in 1881 by Fedor Fyodorovich Kibbel (Theodore Kibbel). Kibbel's shop was at Kronverkskaia and Mir Streets in St. Petersburg. In 1917, the Council of People's Commissars of Labor nationalized the printing house and in 1918, the government re-named it the 1st State Lithography. Thereafter, it underwent a variety of name changes over the following decades. In 1924, it was re-named in honor of Mikhail Pavlovich Tomskii (1880-1936), head of the trade union and head of the State Publishing House. In the mid-1930s, the workshop became the 24th Lithography Workshop of Ogiz (Association of State Book and Magazine Publishers) and in the 1950s, its name was changed to the Leningrad Offset Printing Plant. The printer was located at 9 Kronverkskaia Street.
Read More...
Publisher: State Publishing House — Государственный издательство
The State Publishing House had its origins in Imperial Russia as the Royal Print Yard in St. Petersburg. The Soviets nationalized the print yard in 1917 and requisitioned its presses. From requisitioning emerged the Publishing House of the Petrograd Soviet, formed in the winter of 1917 by the Literary and Publishing Department of People's Commissariat for Education. As the Red Army controlled more provinces and cities in former Imperial Russia, the State Publishing House developed offices outside St. Petersburg. For example in May 1919, the All-Russian Central Executive Committee created the State Publishing House of the RSFSR (Russian Soviet Federative Socialist Republic) in Moscow. Publishing offices were later created elsewhere around Soviet Russia as well as in outlying republics.
Read More...