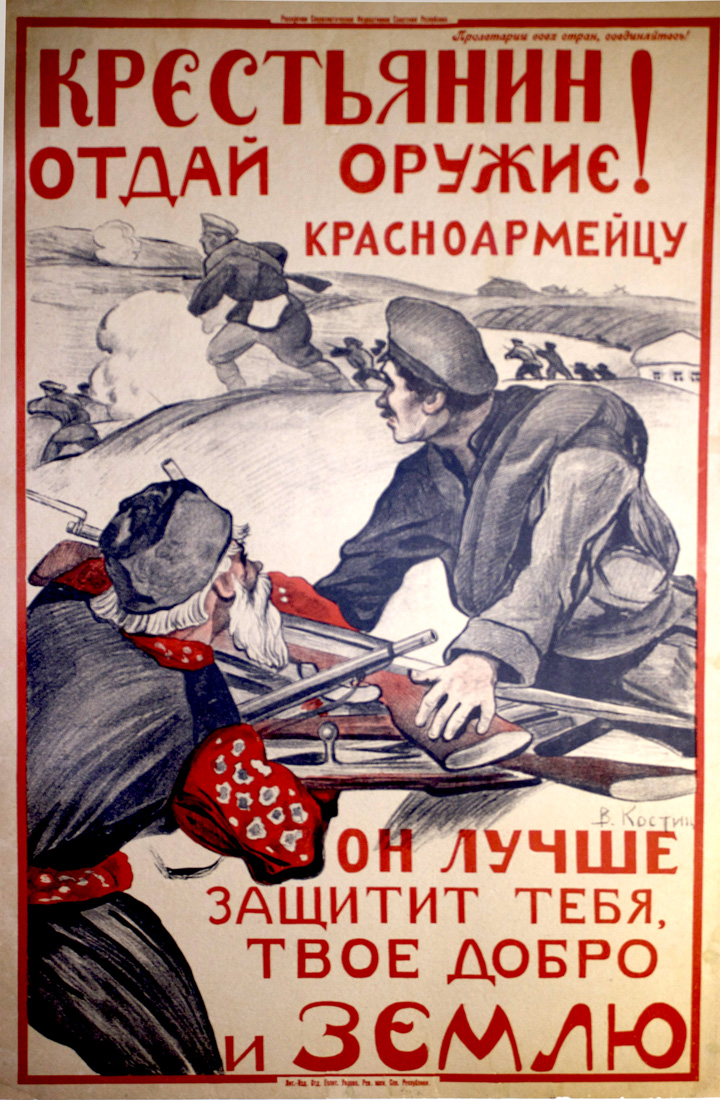 Artist: Kostianitsyn, Vasilii Nikolaevich (Kostitis, Vasilijs) — Костяницын, Василий Николаевич
Throughout his career, Vasilii Nikolaevich Kostianitsyn worked as a portrait artist, poster artist, graphic artist and as a house painter. He was born into a family of icon painters who lived in Tver Oblast, Russia, a town situated on the right bank of the Volga River. Early on, Kostianitsyn (likely born "Kostitis" and of Latvian heritage) was trained by his father and grandfather in the art of icon painting. Prior to the October Revolution of 1917, he dedicated himself to painting icons but after the revolution swept the former empire, he focused on graphic art. This decision led him to a position on the Central Executive Committee of Soviets creating posters and prints to embellish propaganda trains. He created and exhibited works with revolutionary themes, including landscapes and portraits that incorporated markers of political change happening around him.
Read More...
Printer: Printer not indicated —
Publisher: Litizdat (Literary and Publishing Department of the Political Directorate of the Revolutionary Military Council of the Republic) — Литиздат
Litizdat (Literaturno-izdatel'skii otdel politicheskogo upravleniia RVSR) was established in June 1919 by order of the Department of the Political Directorate (PUR) of the Revolutionary Military Council of the Republic (RVSR). A formal decree approved its existence in October that year. Due to the hierarchy of Litizdat's formation, its title is often abbreviated as Litizdat PUR RVSR on publications it issued. As the main publishing arm for the Red Army and the Red Navy, Litizdat distributed a total of 7.5 million posters and postcards between 1919 and 1922. After the Russian Civil War, Litizdat PUR was dissolved and its functions were divided into a succession of state publishing entities. In 1921, the key functions of Litizdat were assigned to the Department of Military Literature (Litrevsor) and by 1924, Litrevsor gave-way to the State Military Publishing House (Gosudarstvennoe voennoe izdatel'stvo), Voenizdat-Voengiz.
Read More...