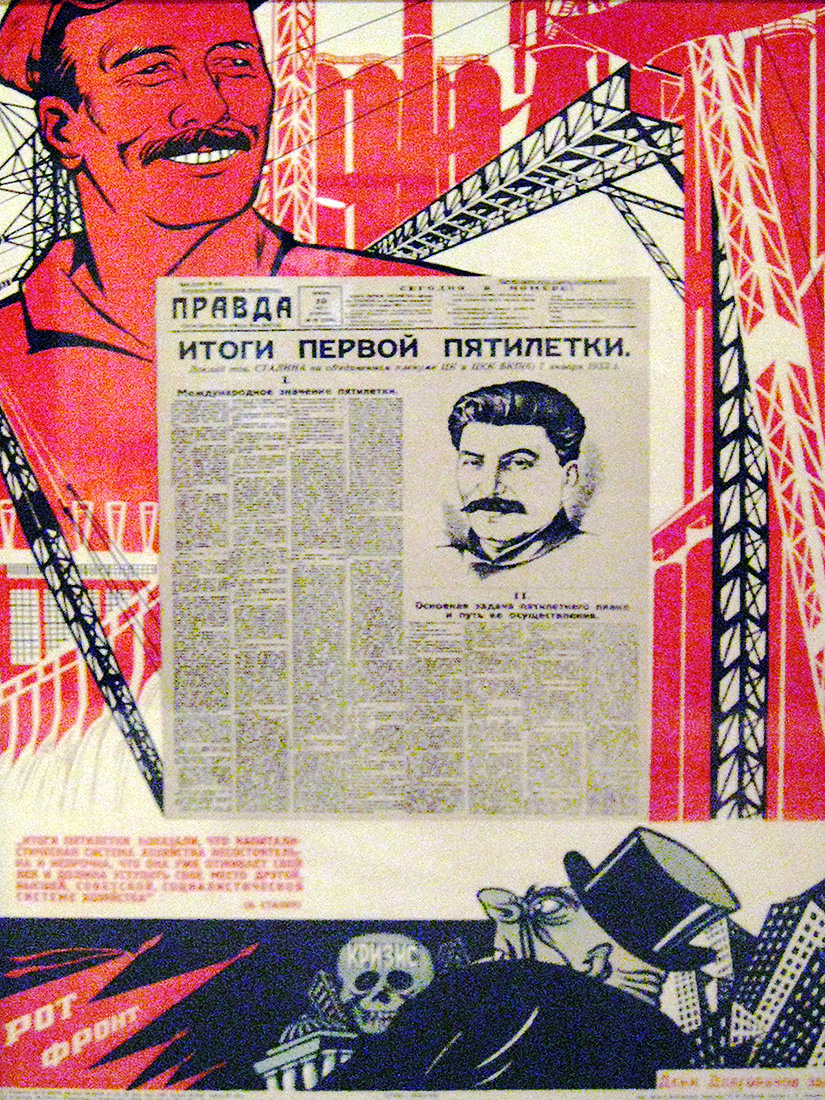 Artist: Deni (Denisov), Viktor Nikolaevich — Дени (Денисов), Виктор Николаевич
Although known for his characterizations and posters that he signed with the pseudonym 'Deni'; Viktor Nikolayevich Denisov never received formal artistic education. Around 1906, Deni began exhibiting at the annual exhibitions of the Society of Independents in Saint Petersburg, as well as at the Salon of Humorists. In 1910, he took private lessons in painting and drawing from the artist-portraitist Nikolai P. Ulianov and that same year, he became active in the field of political caricature, contributing satirical drawings to such journals as Budil'nik [Alarm Clock], Satiricon, Solntse Rossii [Russian Sun], Pulemet [Machine Gun], Knut [Whip], while contributing to the newspaper Golos Moskvy [Voice of Moscow].   After the October Revolution of 1917, Deni worked for Litizdat (State Publishing House). During the early post-Revolutionary period, he lived in Kazan' and produced his first posters there while continuing to work on political caricatures for a myriad of Soviet journals.  Upon his return to Moscow in 1920, he contributed to the ROSTA (Russian Telegraph Agency) Windows studio creating posters for the collective.   By 1921, his caricatures appeared in newspapers, including the main Soviet news organ Pravda [Truth].  His posters were included in a number of high-profile exhibitions such as Krasnaia armia [Red Army] (1923) and Raboty na revoliutsionnye i sovetskie temy [Works of Revolutionary and Soviet Themes] (1930). He also exhibited works at international fairs in Berlin, Hamburg, Vienna, and Amsterdam, and he was an exhibitor at the International Poster Exhibition in Liege (1932). In 1932, Deni was awarded the title of Honored Worker of the Arts of the Russian Soviet Federated Socialist Republic.
Read More...
Artist: Dolgorukov, Nikolai Andreevich — Долгоруков, Николай Андреевич
In 1928, Nikolai Andreevich Dolgorukov moved from his native Ekaterinburg to Moscow in order to attend VKhUTEIN (Higher State Artistic and Technical Institute). After that organization dissolved in 1930, Dolgorukov continued his studies at the Moscow Polygraphic Institute under the tutelage of artists Lev Bruni and Dimitri Moor. Dolgorukov's training was in illustrated political satire as well as in poster design and each of these areas became the main focus of his long career. After graduation, he collaborated with fellow poster artist Viktor Deni. The duo went on to design a host of iconic Soviet posters during the 1930s and 1940s. Dolgorukov also created illustrations for a number of prominent newspapers: Krasnaia Zvezda [Red Star] (1933), Pravda [Truth], (1934), Izvestia [News] (1949), and for numerous journals including Proektor [Projector] (1932-1935), Sovetskii Soldat [Soviet Soldier] (1941) and Iskra [Spark] (1942). He produced a variety of popular posters, such as Under the Banner of Lenin toward the Formation of a Classless Society (1932) and Five-Year Plan (1933; co-authored with Deni). During World War II, he remained active as a graphic designer and a cartoonist producing a myriad of posters including, We'll Sweep Away the Fascist Barbarians (1941) and The Enemy Will Not Have Mercy! He contributed two poster designs to the Soviet telegraph TASS Studio between the autumn of 1942 and the autumn of 1943.
Read More...
Printer: Printer not indicated —
Publisher: Ogiz-IzoGiz, Moscow-Leningrad — Огиз-Изогиз, Москва-Ленинград
Ogiz (Ob"edinenie gosudarstvennykh knizhno-zhurnal'nykh izdatel'stv) is the Association of the State Book and Magazine Publishers. It was established in 1930 by the RSFSR Sovnarkom to centralize all publishing activities in the Soviet Union. Aside from centralization, Ogiz helped eliminate duplication of printed products. Posters, art magazines and artistic books were placed under the Izogiz (Izobrazitel'noe iskusstvo) fine arts section of Ogiz. In 1963, Izogiz was re-named Sovetskii khudozhnik, "Soviet Artist".
Read More...