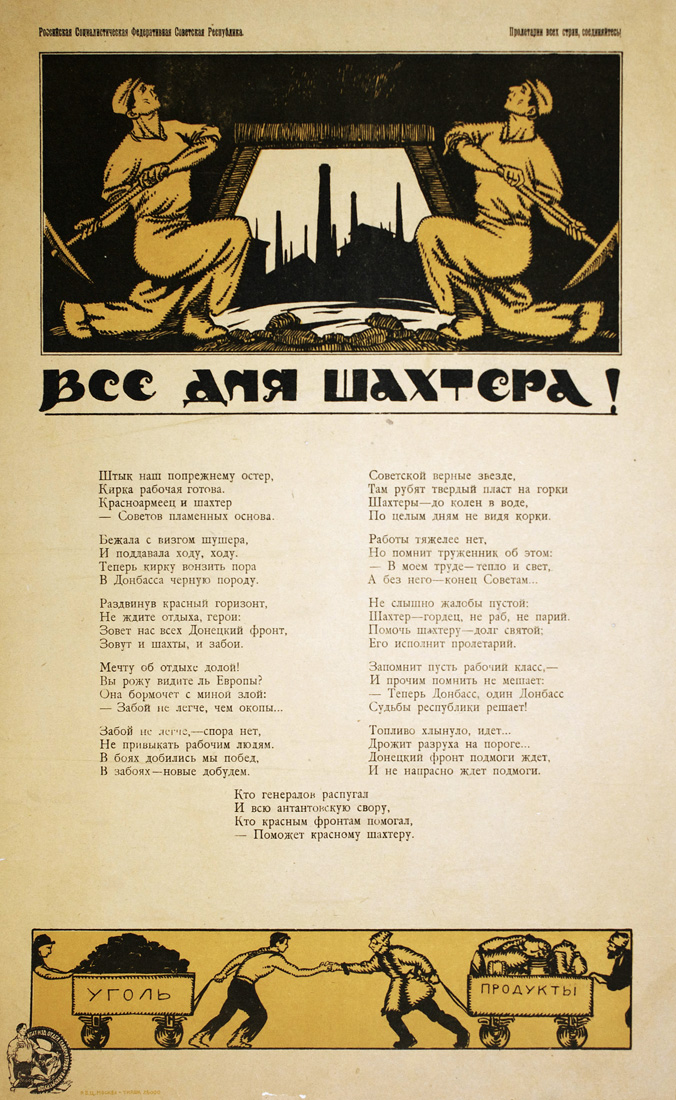 Artist: Slavinskii, N. (attributed to) — Славинский, Н.
Printer: 5th State Typolithography Workshop, Moscow (formerly Russian Partnership) — 5-я государственный типо-литография, (бывш. Русское товарищество)
Before nationalization, the 5th State Typolithography Workshop in Moscow was Russian Partnership Printing House on Krivoarbatskii (curved) lane. The 5th Lithography was placed under the Mosoblpoligraf printing trust. It is not to be confused with the 5th Typography Workshop that was also in Moscow during the same period. Krivoarbatskii Lane became Melnikov Lane (for architect Konstantin Melnikov who lived at number 10) and in 1936, it became Zhukov Street in honor of engineer Nikolai Zhkovskii who lived at house number 8. In 1991, the street reverted to Krivoarbatskii.
Read More...
Publisher: Glavkomtrud and Narkomtrud (Main Labor Committee and Public Commissariat of Labor) — Главкомтруда и Наркомтруда
Glavkomtrud (Main Committee for Labor) was established in 1920 during the Russian Civil War to mobilize labor troops to help win the war and rebuild infrastructure. It was divided into provincial branches called Кomtruds (Labor Committees) to carryout the plan. Glavkomtrud and the Komtruds were interdepartmental organizations devised for coordinating mandatory labor conscription. The People's Commissariat for Labor (Narkomtrud) collected data concerning the number of eligible workers for conscription. Labor mobilization spanned a variety of occupations from mining, metal smelting and shipbuilding, to the textile and food industries. Peasants were also required to mobilize. Additionally, Glavkomtrud reigned-in labor desertion at factories and trade unions.
Read More...