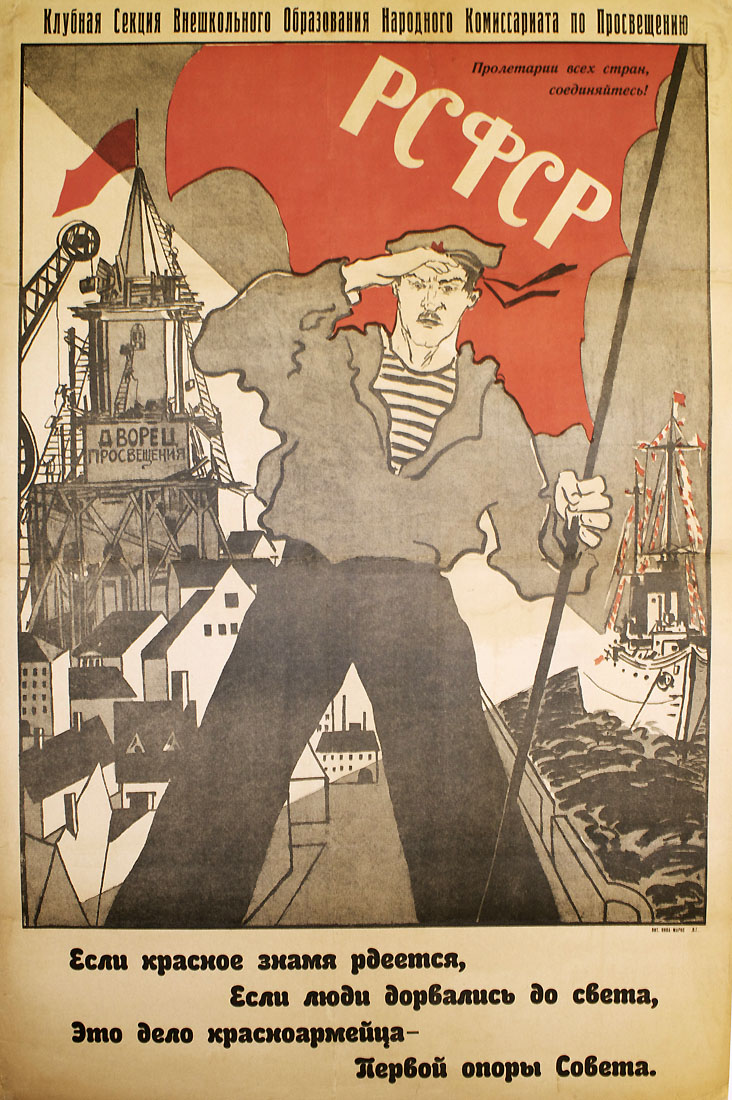 Artist: Artist Unknown — неизвестный художник
The artist's name on the poster is not indicated. By assigning Artist Unknown to a poster it also could mean the artist used a chop mark whereby no signature is seen thus rendering the artist's identity anonymous.
Read More About This Artist
Printer: A.F. Marks Lithography Workshop — Типография Адольф Фёдорович Марксъ
The A.F. Marks'' Partnership Artistic Printing Office was located in St. Petersburg at 29 Izmailovskii Avenue. Founded in 1881 by the printer and publisher, Adolf Fedorovich Marks (1838-1904), the firm published the weekly journal Niva in addition to other literature. In 1916, Moscow publishing mogul Ivan Sytin purchased a controlling interest in its ownership. The Partnership was nationalized (in late 1920) and placed under Gosizdat, the state publisher. In 1922, the printer was placed under Petropechat', a state-owned trust ...
Read More About This Printer
Publisher: Narkompros (People's Commissariat for Education) — Наркомпрос
The People's Commissariat for Education (Narkompros) was formed in 1918 and it encompassed the former Imperial Ministry of Public Education, the State Education Committee, and the former Palace Ministry (an entity that managed theaters, the Academy of Arts and the royal palaces). Overseeing Narkompros was the All-Russian Central Executive Committee (VTsIK). As the main educational branch of the government, Narkompros carried out a compliment of programs such as the combating of illiteracy, professional education, adult education, ...
Read More About This Publisher