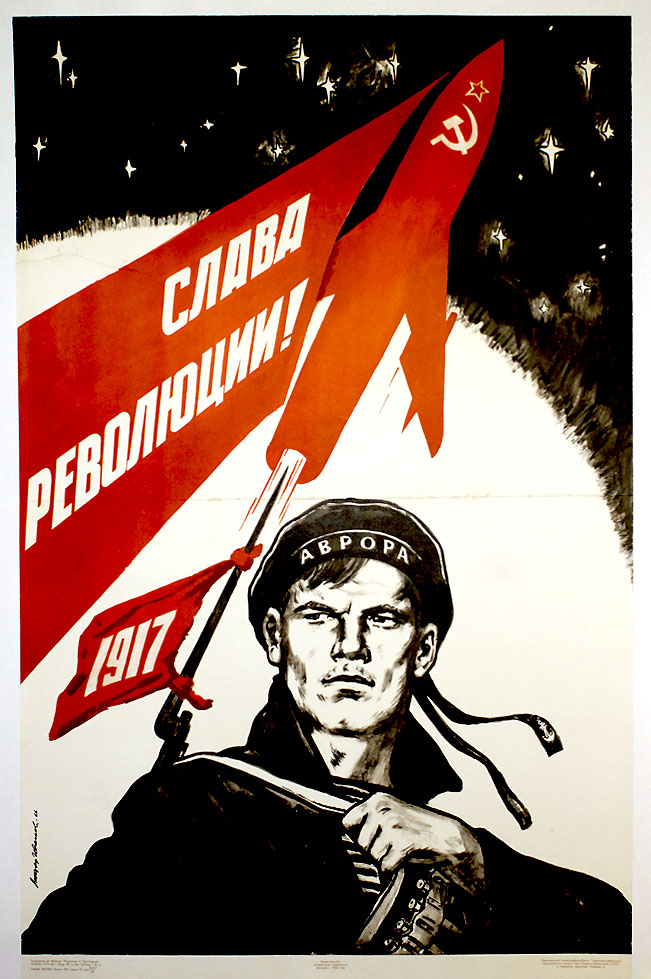 Artist: Ivanov, Viktor Semenovich — Иванов, Виктор Семёнович
Viktor Semenovich Ivanov attended Moscow Secondary Professional Art School from 1926 to 1929. In 1928, he took classes at a studio of Dmitrii Kardovskii the Russian artist, illustrator and stage designer, and from 1929 to 1933, Ivanov continued his education at the Institute of Painting, Sculpture and Architecture that was affiliated with the Russian Academy of Arts of Leningrad. In 1931, Viktor Ivanov began designing for the state publishing house Ogiz-Izogiz where he achieved acclaim as a prolific artist whose concentration ...
Read More About This Artist
Printer: Kalinin City Poligrafkombinat of Glavpoligrafprom — Калининский полиграфический комбинат Главполиграфпрома
The Kalinin Poligrafkombinat was located at 5 Lenin Avenue (formerly Voroshilov Street) in Kalinin (now Tver), a city northwest of Moscow. Throughout its existence, the name of this printing plant changed depending on the various state-owned trusts that handled its management. During the mid-1950s into the 1970s, the plant was under the management of Glavpoligrafprom (Main Directorate of the Printing Industry). Poligrafkombinat is the portmanteau for the English word, printing plant.
Read More About This Printer
Publisher: Sovetskii Khudozhnik (Soviet Artist), Moscow — Советский художник, Москва
Sovetskii Khudozhnik (Soviet Artist) was a publishing house that chiefly served the Artists' Union of the USSR. The house was founded in Moscow in 1963 during a period of reorganization within the state publishing sector. Sovetskii Khudozhnik turned out albums, art reproductions, postcards and art books, catalogs, brochures and, posters. It also produced illustrated monographs on contemporary artists and collections. In the early 1990s, it was renamed Galart Publishing House.
Read More About This Publisher