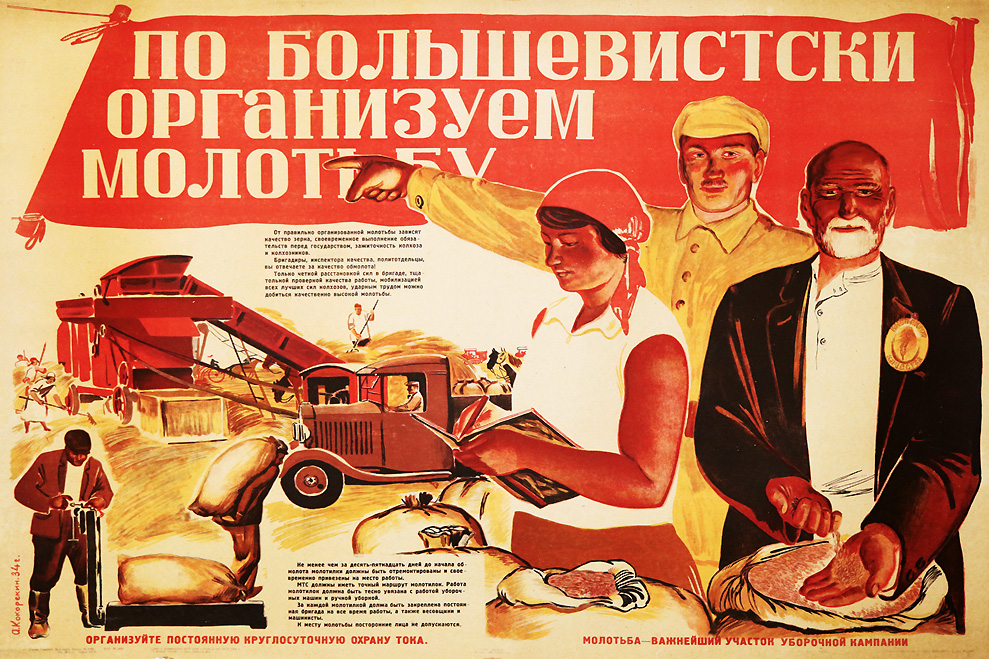 Artist: Kokorekin, Aleksei Alekseevich — Кокорекин, Алексей Алексеевич
Aleksei Alekseevich Kokorekin was born in a part of Imperial Russia that is today Kyrgyzstan. In 1918 Kokorekin attended the Krasnodar School of Painting and Sculpture. In 1929, he graduated from the Kuban' Pedagogical School in Krasnodar. While in Krasnodar, he worked both as a poster designer and a decorator for the Krasnodarskii Theater. Shortly after his graduation, he moved to Moscow and began contributing designs to IZOGIZ State Publishing House. In 1933-'34, he created book and magazine illustrations while at the same time producing easel paintings.
Read More...
Publisher: Ogiz-IzoGiz, Moscow-Leningrad — Огиз-Изогиз, Москва-Ленинград
Ogiz (Ob"edinenie gosudarstvennykh knizhno-zhurnal'nykh izdatel'stv) is the Association of the State Book and Magazine Publishers. It was established in 1930 by the RSFSR Sovnarkom to centralize all publishing activities in the Soviet Union. Aside from centralization, Ogiz helped eliminate duplication of printed products. Posters, art magazines and artistic books were placed under the Izogiz (Izobrazitel'noe iskusstvo) fine arts section of Ogiz. In 1963, Izogiz was re-named Sovetskii khudozhnik, "Soviet Artist".
Read More...