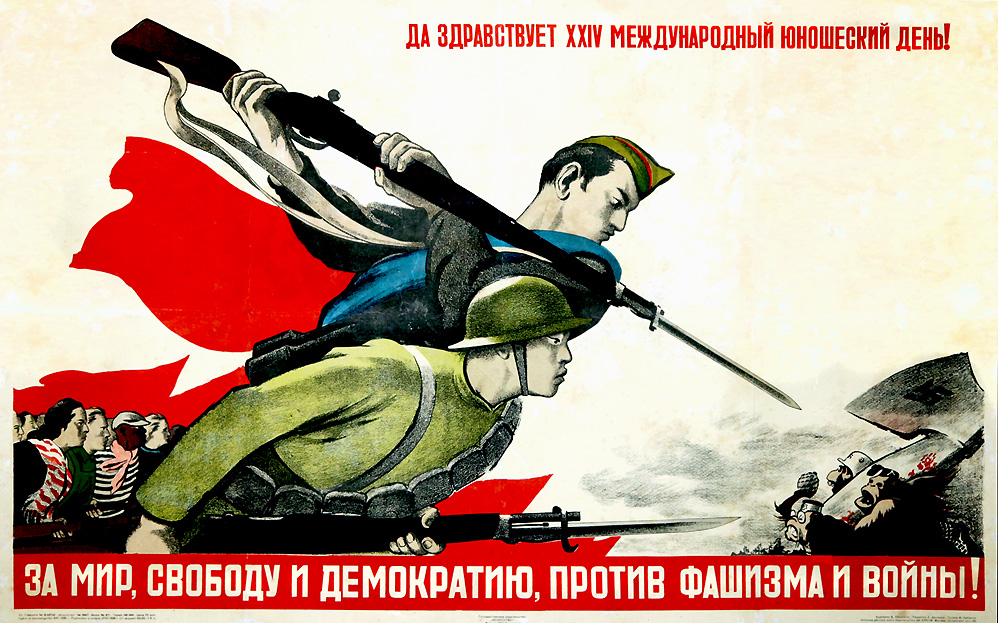 Artist: Proporokov, Boris Ivanovich — Пророков, Борис Иванович
Printer: Detgiz (Children's State Book Printing) — Детгиз (Фабрика детской книги издательства детской литературы)
The Detgiz publishing and printing plant in Moscow was located at 49 Sushchevskii Rampart. While it focused on children's books, occasionally it printed political posters. Detgiz was founded in 1933 following a merger with Young Guard (Molodaia Gvardia) publishing. With the aid of famed Russian author Maxim Gorky; Detgiz attracted significant literary talent resulting in Soviet writers, artists and educators being dully employed by the firm. There were many departments within Detgiz such as fiction, classical literature ...
Read More About This Printer
Publisher: Iskusstvo (Art Publishing House), Moscow-Leningrad — Искусство, Москва-Ленинград
Iskusstvo was the Art Publishing House (A.K.A. Visual Arts Publishing) that was created in 1936 from Ogiz-Izogiz (State Art and Literature Publishing House). It disseminated books and journals dealing with graphic design and the fine arts, and it issued numerous posters. Since the Iskusstvo banner was part of the State Printing Works in Leningrad (St. Petersburg) and Moscow, its two main offices were located in those two cities.
Read More About This Publisher