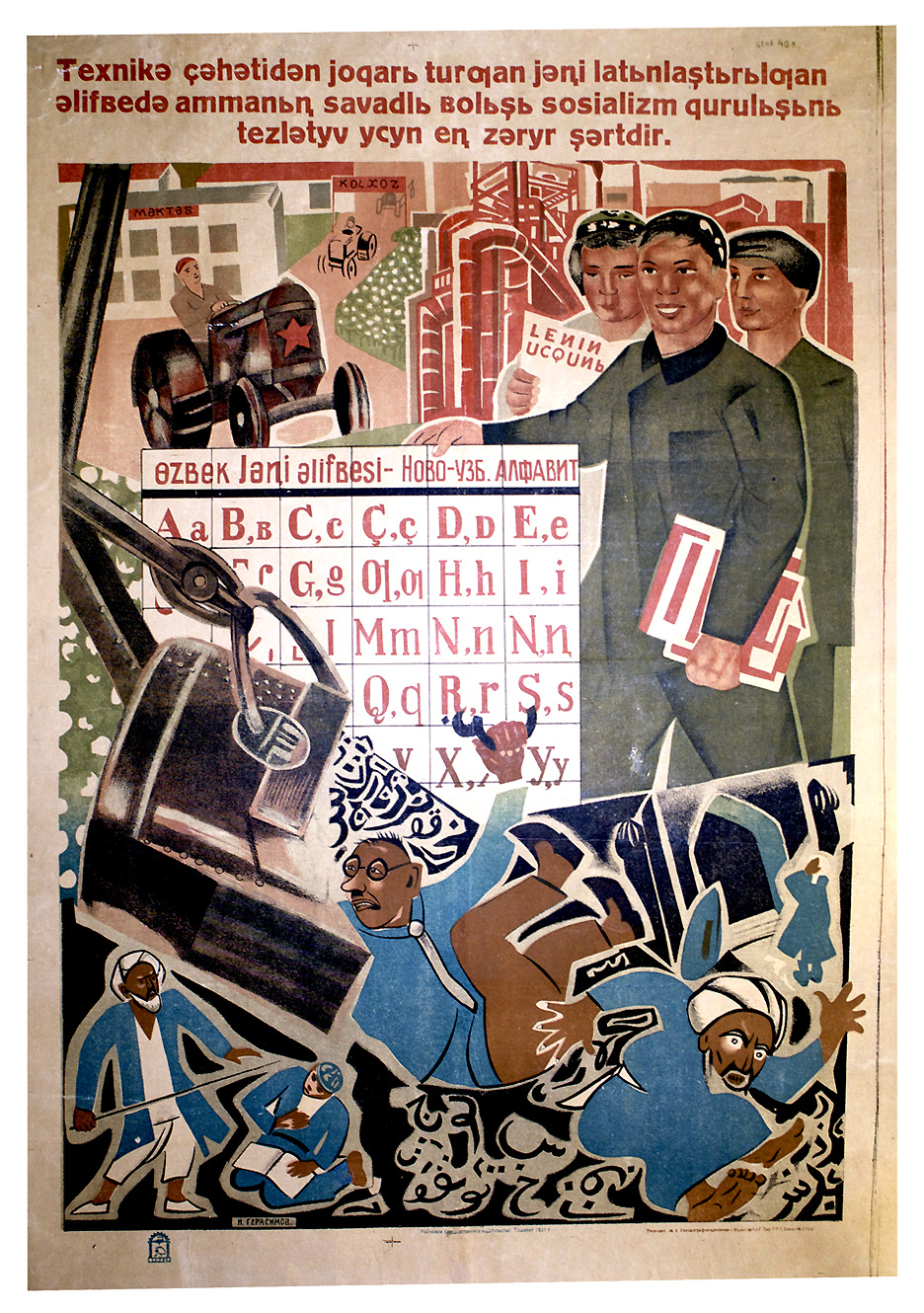 Artist: Gerasimov, Nikolai Mikhailovich — Герасимов, Николай Михайлович
Nikolai Mikhailovich Gerasimov was a Soviet-based graphic artist, watercolorist and, a poster artist. He was also a member of the Union of Artists of the USSR. Born in the western Russian city of Kostroma; Gerasimov developed a passion for art during the period he was working in Leningrad. From 1923 to 1927, he studied at the VKhUTEMAS art school in Leningrad. In the late 1920s, he began his professional career. His work was included in the 1932 First ...
Read More About This Artist
Printer: Uzpoligraf Typolithography, Uzbekistan — Типо-Литография Узполиграф треста, Узбекистан
During the early 1930s, the Uzbekistan-based Uzpoligraf printing trust consolidated a bevy of printing shops both large and small operating within the UzbekSSR and it placed them under state control. Uzpoligraf's principal headquarters were located in Tashkent.
Read More About This Printer
Publisher: Oznaşr (Uzbek State Publishing) — Ознаср (Узгосиздат)
Ѳznaşr (Uzbek State Publishing) was formed around 1924 in the Uzbek Soviet Socialist Republic. Its main offices were located in Samarkand and in Tashkent. Prior to the October Revolution of 1917, there were few printing presses and lithography studios in Uzbekistan, and the few that existed tended to serve the Imperial Russian administration. In 1920, the Turkestan State Publishing House (likely the first publisher in the "Soviet East") developed operations across Central Asia. Ѳzna...
Read More About This Publisher