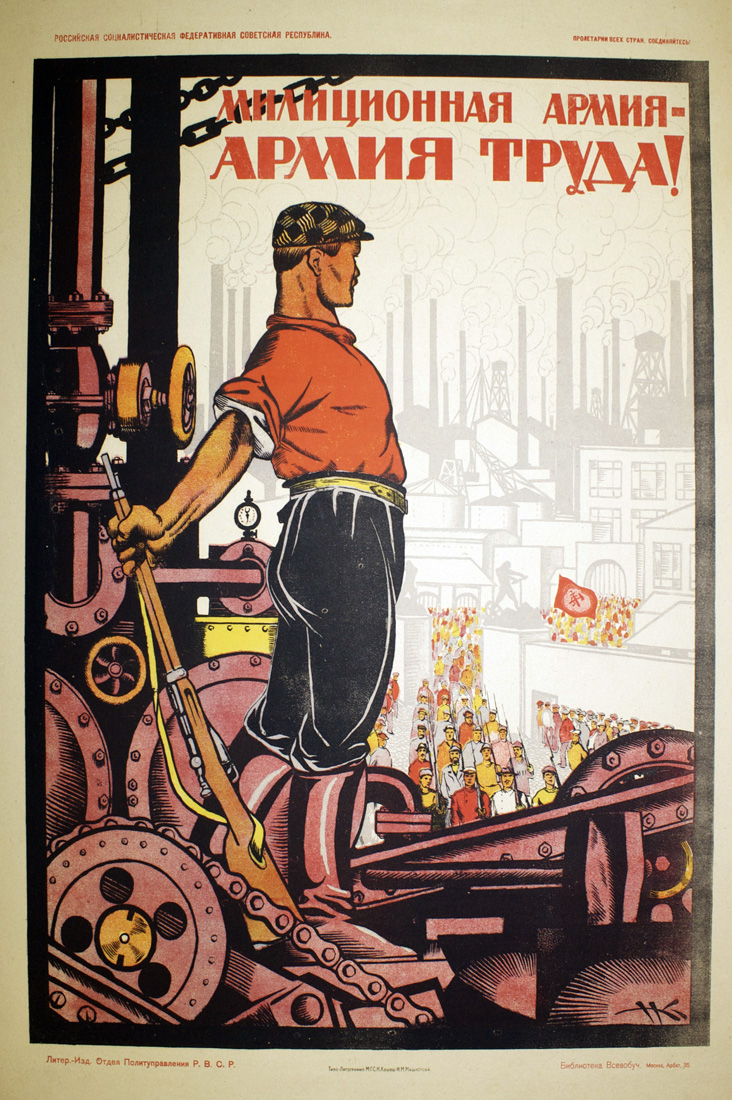 Artist: Kochergin, Nikolai Mikhailovich — Кочергин, Николай Михайлович
In the history of Soviet political posters, Nikolai Mikhailovich Kochergin is considered one of its pioneers. In 1918, Kochergin graduated from the Stroganov Central Industrial Art College where he later ventured into the professional world of graphic design. During the Russian Civil War, he supervised a poster publishing house and workshop in Kharkov, Ukraine. He was also one of the primary organizers of the Baku, Azerbaijan ROSTA (Russian Telegraph Agency) artist group that circulated posters throughout ...
Read More About This Artist
Printer: MGSNKh Typo-lithography Workshop, Moscow — Типо-литография МГСНХ, Москва
MGSNKh (Moscow City Council of National Economy) was formed in 1918. It municipalized hundreds of local printing enterprises during the Russian Civil War when hoarding of ink, paper and production equipment was prevalent. For its own printing needs, the MGSNKh took over several printing houses such as the 2nd Typography Workshop, the 3rd State Typolithography Workshop (formerly owned by Ivan Kushnerev) and the 15th Lithographic Workshop formerly under the ownership of Ivan Mashistov.
Read More About This Printer
Publisher: Litizdat (Literary and Publishing Department of the Political Directorate of the Revolutionary Military Council of the Republic) — Литиздат
Litizdat (Literaturno-izdatel'skii otdel politicheskogo upravleniia RVSR) was established in June 1919 by order of the Department of the Political Directorate (PUR) of the Revolutionary Military Council of the Republic (RVSR). A formal decree approved its existence in October that year. Due to the hierarchy of Litizdat's formation, its title is often abbreviated as Litizdat PUR RVSR on publications it issued. As the main publishing arm for the Red Army and the Red Navy, Litizdat distributed a ...
Read More About This Publisher