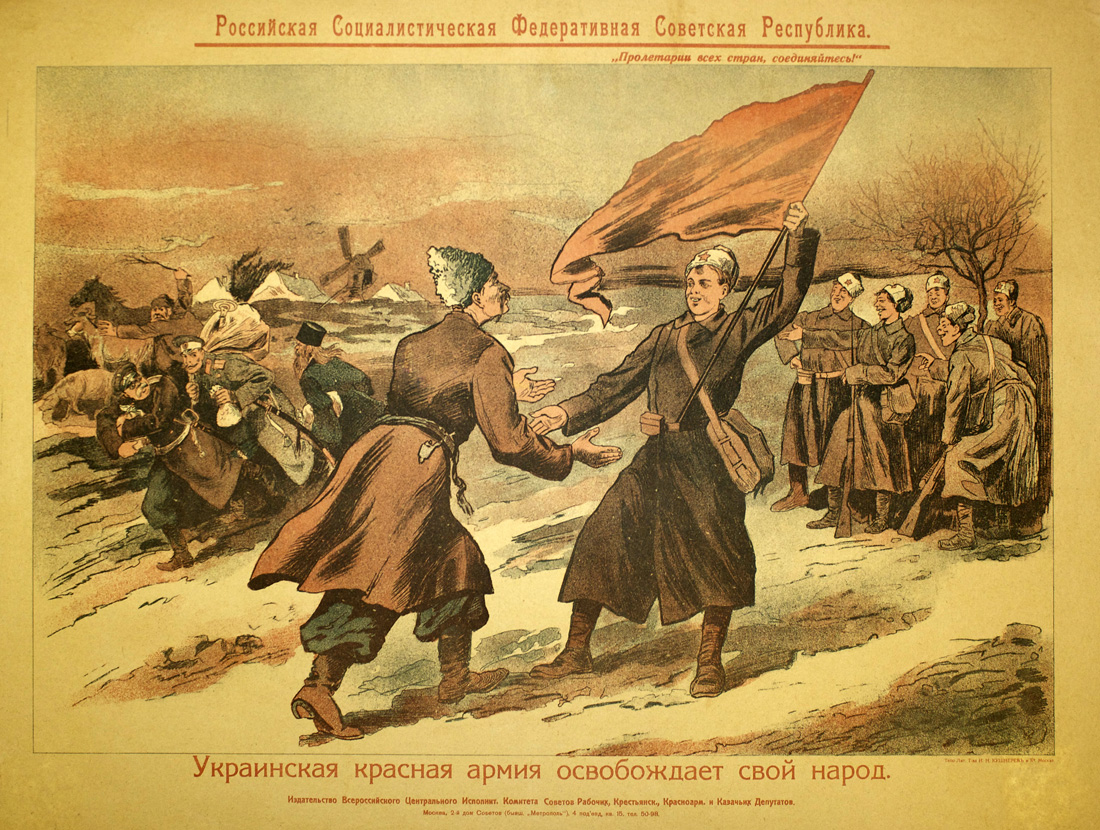 Artist: Artist Unknown — неизвестный художник
The artist's name on the poster is not indicated. By assigning Artist Unknown to a poster it also could mean the artist used a chop mark whereby no signature is seen thus rendering the artist's identity anonymous.
Read More About This Artist
Printer: I.N. Kushnerev & Co. Typolithography, Moscow — Типо-литография Товарищества И. Н. Кушнерев и Ко., Москва
Russian entrepreneur Ivan Kushnerev founded the Ivan Kushnerev & Company Printing Shop in 1869 in Moscow. Having tried his hand at publishing, Kushnerev turned to printing and opened a small shop "with a dozen workers, one hand press, and a single printing machine." In 1903, the shop acquired Moscow's first Linotype press. As his business grew, he brought-in partners, and when Kushnerev died in 1896, his printing company was one of the largest in Imperial Russia...
Read More About This Printer
Publisher: VTsIK (All-Russian Central Executive Committee), Moscow — ВЦИК (Всероссийский Центральный Исполнительный Комитет), Москва
VTsIK (Vserossiyskii Centralny Ispolnitelny Komitet ) was the All-Russian Central Executive Committee of Soviets of Workers', Peasants', Red Army and Cossack Deputies. It was the highest legislative and administrative body of government in the Russian Soviet Federative Socialist Republic (RSFSR) from 1917 until 1936. Following the reformation of the Soviet Constitution in 1936, the Supreme Soviet of the RSFSR replaced VTsIK. From a publishing angle, VTsIK disseminated agitational and military literature in addition to official publications. In May 1919, VTsIK ...
Read More About This Publisher