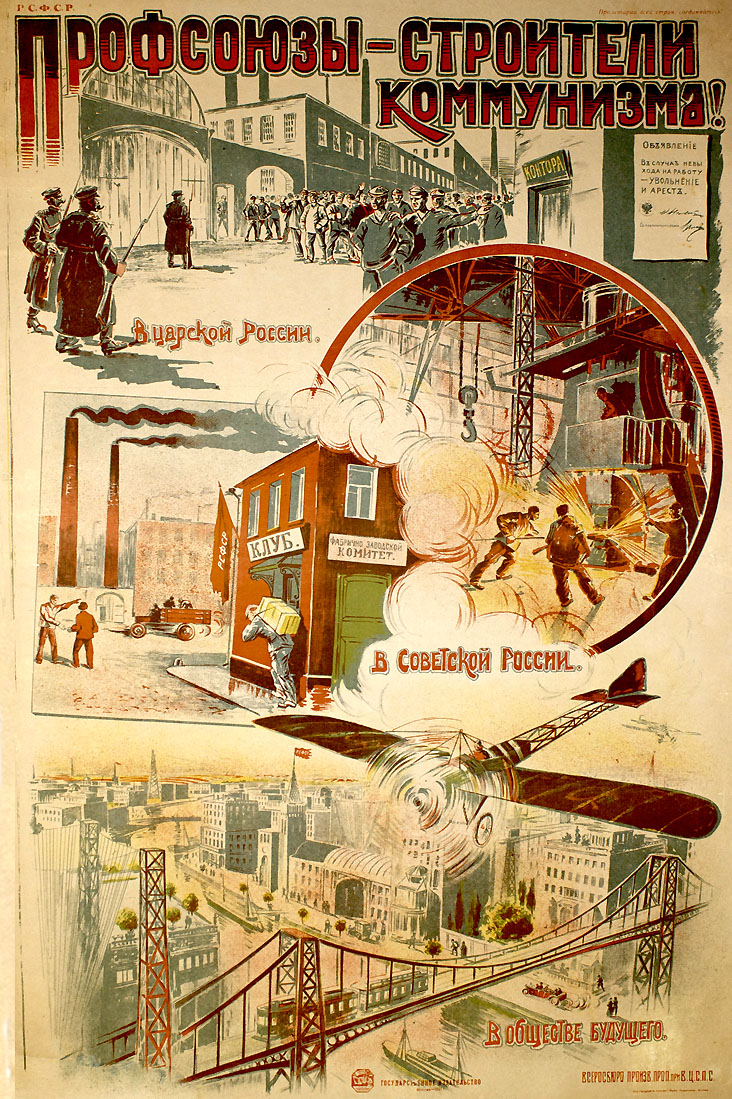 Artist: Illegible Name — Неразборчивое Имя
Printer: 20th State Typolithography Workshop, Moscow — 20-я Государственная типография (бывш. Кушнерова), Москва
Russian entrepreneur Ivan Nikolaievich Kushnerev founded the Kushnerev & Company Printing Shop in 1869 in Moscow. Initially, he opened a small shop "with a dozen workers, one hand press, and a single printing machine." In 1903, Kushnerev acquired Moscow's first Linotype press. As his business grew, he brought-in partners, and when he died in 1896, Kushnerev's printing firm was one of the largest in Imperial Russia. In 1919, Kushnerev & Company was nationalized by the Soviets and co...
Read More About This Printer
Publisher: All-Russian Bureau of Industrial Propaganda — Всероссийского бюро производственной пропаганды
The All-Russian Bureau of Industrial Propaganda was formed in 1920 to advance all aspects of labor considered important by Soviet authorities. The entity was formed by the All-Russian Central Council of Professional Unions (V.Ts.S.P.S.). They not only studied labor but offered solutions for, "immediate introduction of the most efficient methods into the industries". Duties of the All-Russian Bureau of Industrial Propaganda were borne by the Central Institute of Labor.
Read More About This Publisher