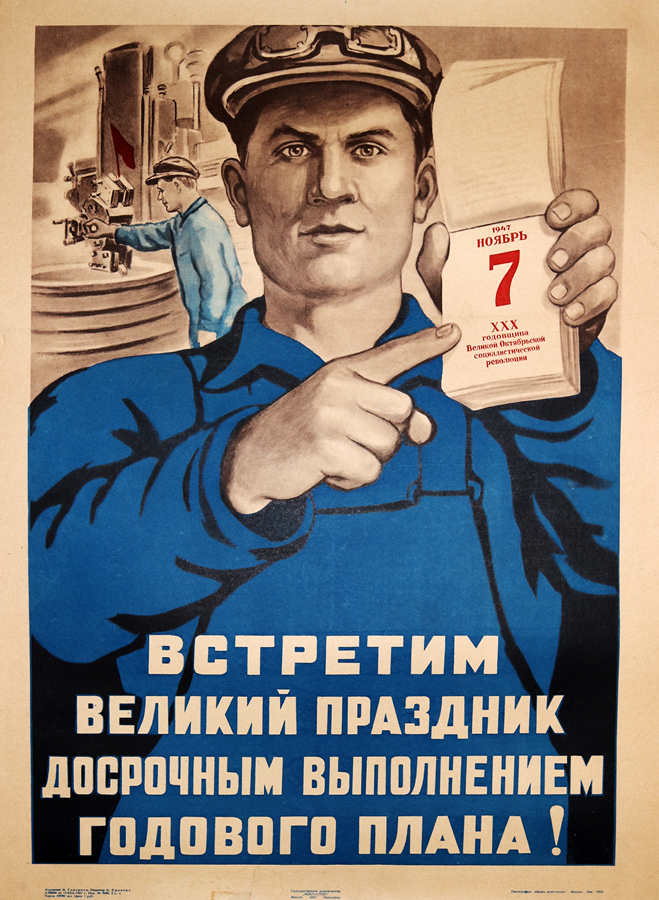 Artist: Govorkov, Viktor Ivanovich — Говорков, Виктор Иванович
Viktor Ivanovich Govorkov studied art in the studios of the Club for Soviet Workers in Vladivostok during the mid-1920s. From 1926 to 1930, Govorkov studied at VKhUTEIN [Higher Art and Technical Institute] in Moscow under the tutelage of Sergei Gerasimov where he concentrated in monumental art. His thesis at VKhUTEIN was a sketch for a panel intended for decoration on Red Square in preparation for the May Day festivities there in 1930. Upon his graduation he served ...
Read More About This Artist
Printer: Iskra Revolutsii (Revolutionary Spark) Typography Workshop, Moscow — Типография Искра революции, Москва
Iskra Revolutsii was a Moscow printer that was also known as the 15th Iskra Revolutsii Typography Workshop. Over the decades, the printer was under a host of printing trusts such as Soiuzpoligrafprom (All-Union Association of Printing Enterprises) that handed jobs for the state publisher Glavizdat (Main Administration of Publishing Houses, Printing Industry and Book Trade). Iskra Revolutsii was also managed by Glavpoligrafizdat (Main Administration for Matters of Polygraphic Industry Publishing and Book Selling), a trust ...
Read More About This Printer
Publisher: Iskusstvo (Art Publishing House), Moscow-Leningrad — Искусство, Москва-Ленинград
Iskusstvo was the Art Publishing House (A.K.A. Visual Arts Publishing) that was created in 1936 from Ogiz-Izogiz (State Art and Literature Publishing House). It disseminated books and journals dealing with graphic design and the fine arts, and it issued numerous posters. Since the Iskusstvo banner was part of the State Printing Works in Leningrad (St. Petersburg) and Moscow, its two main offices were located in those two cities.
Read More About This Publisher