Banhegyi, Tibor (Bánhegyi, Tibor)
Банхеди, Тибор


Born 1923; died 1986

Tibor Bánhegyi was a Hungarian poster artist who began his career in the 1940s. Bánhegyi studied at the University of Applied Arts between 1945 and 1947 and his first professional designs were exhibited in 1948 at an art exhibition held in the Nemzeti Szalon (National Salon) in Budapest. Bánhegyi was commissioned by the Hungarian Workers' Party as well as by the Hungarian People's Army to create propaganda posters. His early works (from 1949 to 1955) are largely based on themes surrounding politics and the army. Tibor Bánhegyi was a member of the Derkovits creative community of graphic artists, a group named in honor of Gyula Derkovits, a noted personality within the realm of Hungarian fine arts between the two World Wars.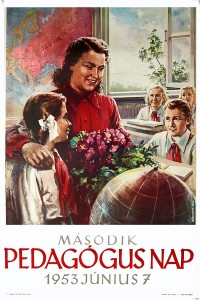 Sources & Citations
Apor, B. (2017). The invisible shining: The cult of Mátyás Rákosi in Stalinist Hungary, 1945-1956. Budapest: Central European University Press.
Aulich, J., & Sylvestrová, M. (2000). Political posters in Central and Eastern Europe, 1945-1995: Signs of the times. Manchester: Manchester University Press.
budapestposter.com (bio, Bánhegyi)