Pimenov, Iurii (Georgii) Ivanovich
Пименов, Юрий (Георгий) Иванович


Born 1903, Moscow, Russian Empire; died 1977, Moscow, USSR

Iurii Ivanovich Pimenov worked in the fields of painting, set design and graphic design during his career. He studied at VKHUTEMAS (Higher Art and Technical Workshops) in Moscow from 1920 to 1925. He was a founding member of OST (Obshchestvo khudozhnikov-stankovistov)-- an artist's society in the Soviet Union formed in 1924. When OST was terminated, Pimenov became a member of IzoBrigada from 1931 to 1932.

In the 1920s, Pimenov was writing for the theater and this work led him to creating set design during the 1930s. In 1937, he designed the murals for the Soviet pavilion at the World's Fair in Paris. He subsequently designed murals for the Soviet pavilion at the 1939 World's Fair in New York. It was during the 1930s, that Pimenov delved into poster design.

During the early phase of World War II, Pimenov worked with the TASS (Telegraph Agency of the Soviet Union) Studio but in 1943 he was called into military service. Between 1945-1972, he taught painting in the art faculty of VGIK (All-Union Cinematography Institute). For his artistic achievements, Pimenov was awarded the Stalin Prize in 1947 and in 1950 as well as the Lenin Prize in 1967.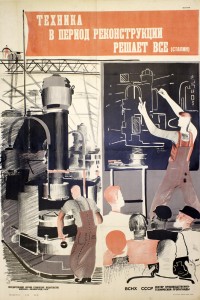 Sources & Citations
Groys, B., Hollein, M. (2003). Dream factory Communism: The visual culture of the Stalin era. Ostfildern-Ruit: Hatje Cantz. (p. 411, bio)
Bonnell, V. E. (1999). Iconography of power: Soviet political posters under Lenin and Stalin. Berkeley: University of California Press. (p. 34, artist's work referencing the Soviet worker)
Swanson, V. G. (1998). Soviet impressionism. Woodbridge: Antique Collectors' Club. (bio, artist)
Baburina, N. I. (1988). The Soviet Political Poster, 1917-1980. New York: Penguin. (bio, artist)
Askart.com/ Yuri Ivanovich (Georgy) Pemenov (bio, artist)