Pimenov, Iurii (Georgii) Ivanovich
Пименов, Юрий (Георгий) Иванович


Born 1903, Moscow, Russian Empire; died 1977, Moscow, USSR

Iurii Ivanovich Pimenov worked in the fields of painting, set design and graphic design throughout his career. He studied at VKHUTEMAS (Higher Art and Technical Workshops) in Moscow from 1920 to 1925. Pimenov was a founding member of OST (Obshchestvo khudozhnikov-stankovistov), the Society of Easel Artists that was formed in 1924. The Society had three inner groups: Projectionism, Concretivism, and the Group of Three (that contained Pimenov). When OST was terminated, he became a member of IzoBrigada (Art Brigade). Formed in 1931 to advance "political realism" in art, IzoBrigada was disbanded in 1932.

During the 1920s, Pimenov was writing for the theater and this led him to creating set designs. In 1937, he designed the murals for the Soviet pavilion at the World's Fair in Paris, and he designed the murals for the Soviet pavilion at the 1939 World's Fair in New York. It was during the 1930s that Iurii Pimenov turned to poster design. Some of his early work was related to the cinema. For example, he designed a large two-sheet poster for 1934 silent film Pyshka directed by Mikhail Romm.

During the early phase of World War II, Pimenov worked with the TASS Studio (Telegraph Agency of the Soviet Union), but in 1943, he was called into military service. Between 1945-1972, he taught painting in the art faculty of VGIK (All-Union Cinematography Institute). For his artistic achievements, Pimenov was awarded the Stalin Prize in 1947 and in 1950. He won the Lenin Prize in 1967. He was a member of the Union of Artists of the USSR and a member of the Academy of Arts of the USSR. In 1970, Pimenov was bestowed the title People's Artist of the USSR.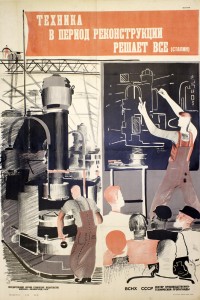 Fuentes
Rollberg, P. (2016). Historical Dictionary of Russian and Soviet Cinema. Lanham: Rowman & Littlefield. (p. 616, bio of Mikhail Romm)
Groys, B., Hollein, M. (2003). Dream factory Communism: The visual culture of the Stalin era. Ostfildern-Ruit: Hatje Cantz. (p. 411, bio of the artist)
Baburina, N. I. (2001). The silent film poster: Russia 1900-1930. Moscow: Art-Rodnik. (Pimenov's Pyshka poster cited )
Bonnell, V. E. (1999). Iconography of power: Soviet political posters under Lenin and Stalin. Berkeley: University of California Press. (p. 34, artist's work cited in reference to the Soviet worker)
Milner, J. (1993). A dictionary of Russian and Soviet artists 1420-1970. Woodbridge: Antique Collectors' Club. (bio, artist)
Bown, M. C. (1991). Art under Stalin. Oxford: Holmes & Meier. (bio, artist)
Baburina, N. I. (1988). The Soviet Political Poster, 1917-1980. New York: Penguin. (bio, artist)
soviet-art.ru (dates of birth and death)