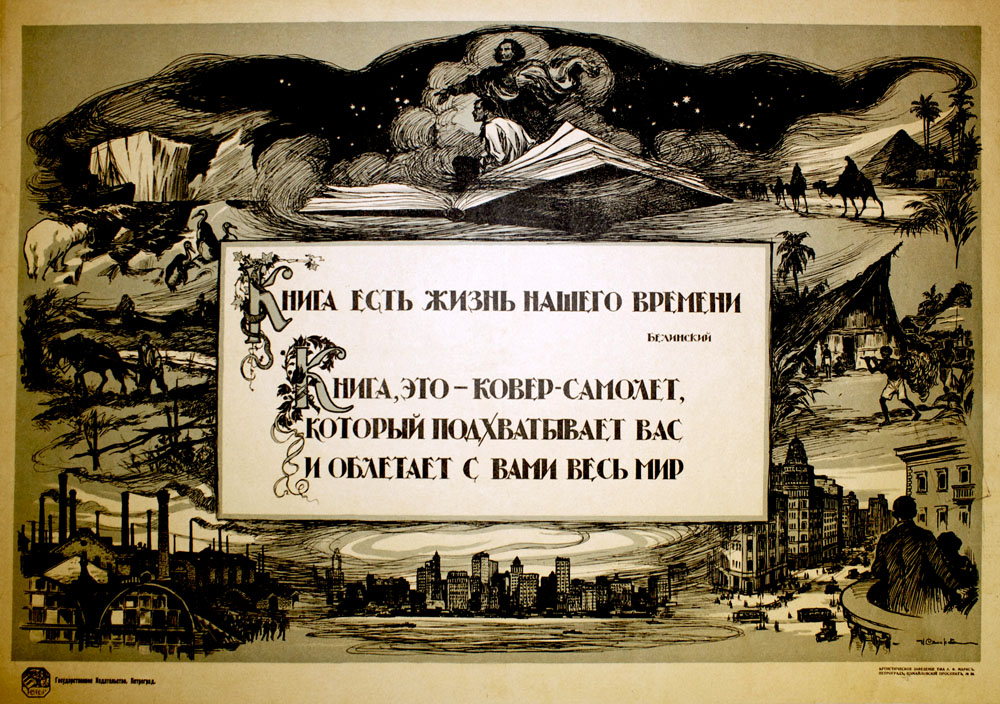 Artist: Simakov, Ivan Vasil'evich — Симаков, Иван Васильевич
Ivan Simakov worked principally as a graphic designer for books. It was not until after the Russian Revolution that he began designing posters. Simakov graduated from the St. Petersburg Academy of Arts in 1912 with a degree in architecture. He lived and worked in St. Petersburg (Leningrad) throughout his life. As a book illustrator, his illustrations were included in the 1907 title "Pushkin in Graphics". From 1919 to 1925 he worked for the Leningrad branch of the State Pu...
Read More About This Artist
Printer: A.F. Marks Lithography Workshop — Типография Адольф Фёдорович Марксъ
The A.F. Marks'' Partnership Artistic Printing Office was located in St. Petersburg at 29 Izmailovskii Avenue. Founded in 1881 by the printer and publisher, Adolf Fedorovich Marks (1838-1904), the firm published the weekly journal Niva in addition to other literature. In 1916, Moscow publishing mogul Ivan Sytin purchased a controlling interest in its ownership. The Partnership was nationalized (in late 1920) and placed under Gosizdat, the state publisher. In 1922, the printer was placed under Petropechat', a state-owned trust ...
Read More About This Printer
Publisher: State Publishing House, Petrograd [St. Petersburg, Russia] — Государственное издательство, Петроград
The State Publishing House had its origins in Imperial Russia as the Royal Print Yard in St. Petersburg. The Soviets nationalized the print yard in 1917 and requisitioned its presses. Out of the requisitioning emerged the Publishing House of the Petrograd (St. Petersburg) Soviet formed in the winter of 1917 by the Literary and Publishing Department of People's Commissariat for Education.
Read More About This Publisher