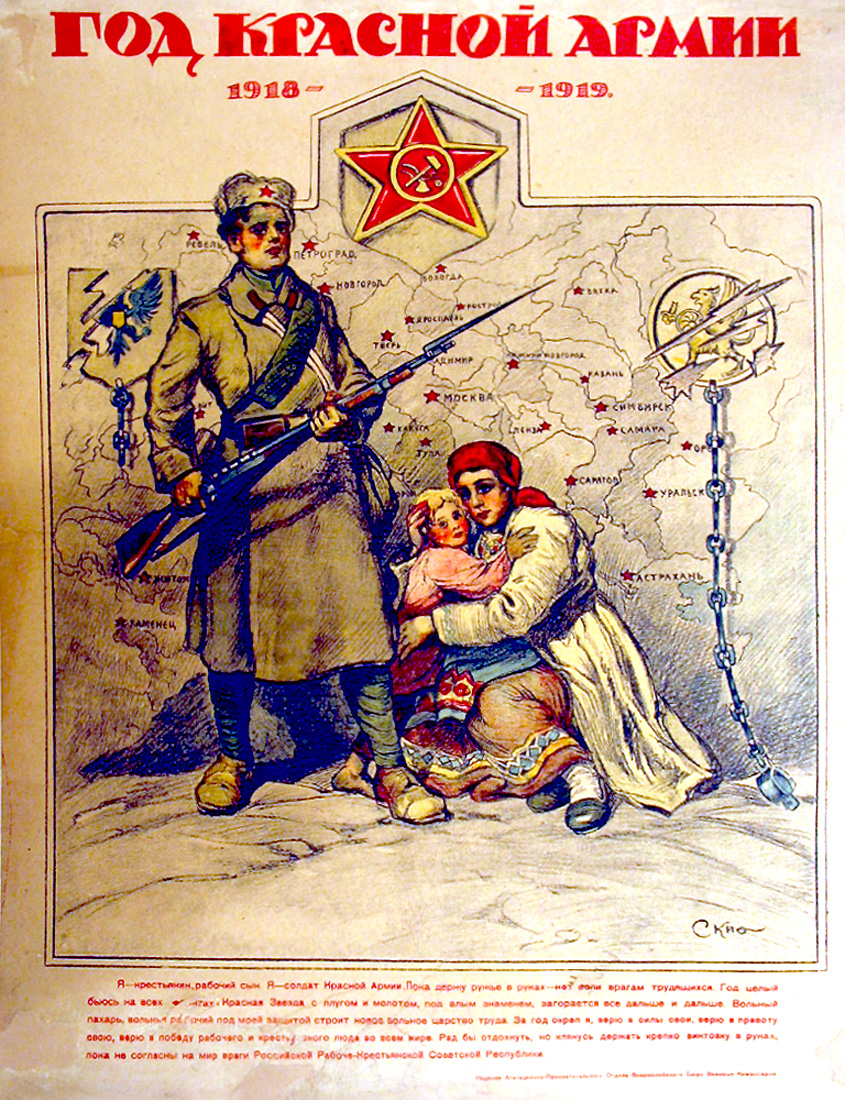 Artist: Apsit, Aleksandr Petrovich (Apsītis, Aleksandrs) — Апситис, Александр Петрович
Alexandr Petrovich Apsit grew up amidst dire poverty and yet he received free instruction under the tutelage of the Saint-Petersburg painter, Lev Dmitriev-Kavkazskii.  By 1902, Apsit was noticed by the popular journals, including Rodina [Motherland], Zvezda [Star], and Niva, for which he produced sketches. He also illustrated the publications of writings by A.M. Gorkii, N.S. Leskov, and A.P. Chekhov, as well as those by D. Bedny, I.S. Nikritin, and M.E. Saltykov-Shchedrin. Through these commissions he gained a stellar reputation, becoming one of the best-paid illustrators in the city.
Read More...
Printer: Printer not indicated —
Publisher: All-Russian Bureau of Military Commissars, Agitation and Education Department — Всероссийское бюро военных комиссаров (VBVK)
In April 1918, the People's Commissariat for Military Affairs issued a decree forming military councils (soviets). This action established commissariats for military matters at the rural, provincial and district levels and it formed the All-Russian Bureau of Military Commissars (VBVK). The formation of the Bureau was the cornerstone for the development of the modern Soviet Military. As standard-bearers of the Bolshevik Party, the All-Russian Bureau of Military Commissars organized and implemented the Party's political work among the troops and assumed political control via specialists, Party cells and political sections. In April 1919, the All-Russian Bureau of Military Commissars was dissolved. In its place was established (between May and October) the Political Section of the Revolutionary Military Council (PUR) that took command of political, educational and agitation work in the military. During the Russian Civil War PUR formed the backbone of leadership within the political agencies inside the Red Army and the Red Navy. In 1920, PUR was reconstituted into the Political Administration of the Red Army (PURKKA).
Read More...