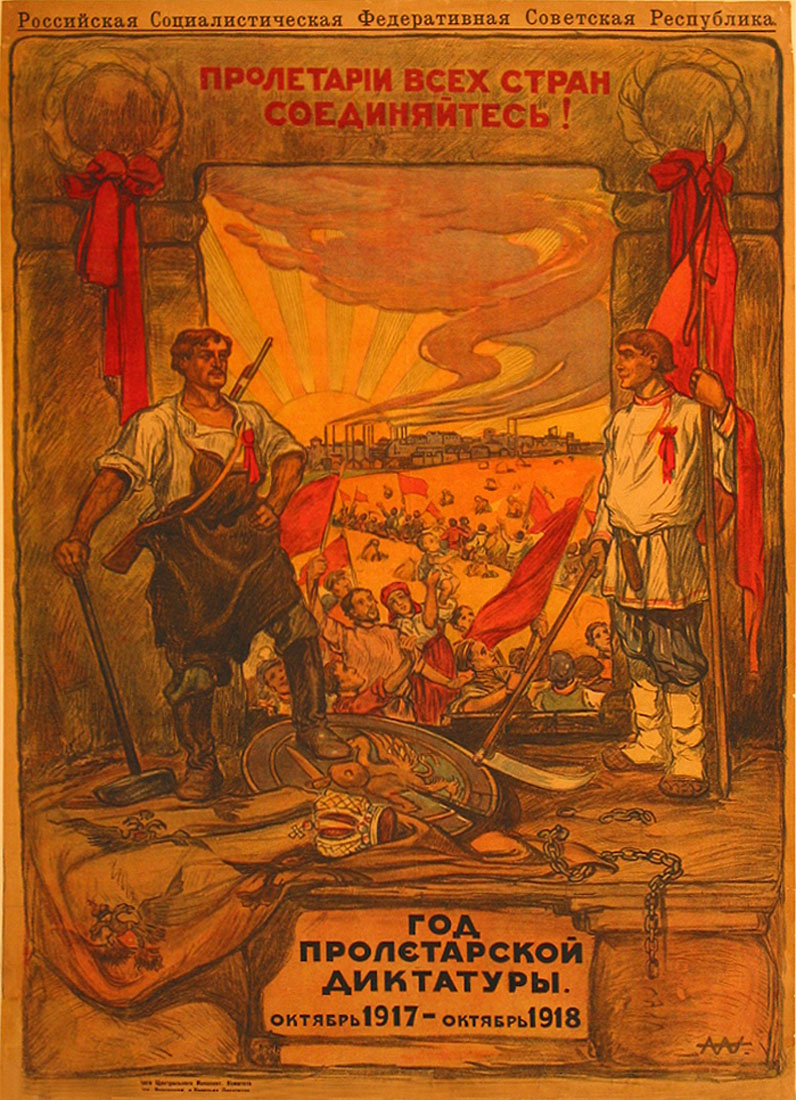 Artist: Apsit, Aleksandr Petrovich (Apsītis, Aleksandrs) — Апситис, Александр Петрович
Alexandr Petrovich Apsit grew up amidst dire poverty and yet he received free instruction under the tutelage of the Saint-Petersburg painter, Lev Dmitriev-Kavkazskii.  By 1902, Apsit was noticed by the popular journals, including Rodina [Motherland], Zvezda [Star], and Niva, for which he produced sketches. He also illustrated the publications of writings by A.M. Gorkii, N.S. Leskov, and A.P. Chekhov, as well as those by D. Bedny, I.S. Nikritin, and M.E. Saltykov-Shchedrin. Through these commissions he gained a stellar reputation, becoming one of the best-paid illustrators in the city.
Read More...
Printer: Printer not indicated —
Publisher: VTsIK (All-Russian Central Executive Committee), Moscow — ВЦИК
Known by its acronym VTsIK (Vserossiyskii Centralny Ispolnitelny Komitet), the All-Russian Central Executive Committee of Soviets of Workers', Peasants', Red Army and Cossack Deputies was the highest legislative, administrative and amending body of government in the RSFSR (Russian Soviet Federative Socialist Republic) from 1917 until 1936. The initial Executive Committee was elected during the first All-Russian Congress of Soviets held in Petrograd (St. Petersburg) in June 1917. In late 1922, the Soviet Union was formed and it was comprised of the RSFSR along with three other Soviet republics. The All-Russian Central Executive Committee then became the second-highest level (federal-republic) governing body. Following a reformation of the Soviet Constitution in 1936, the Supreme Soviet of the RSFSR replaced VTsIK.
Read More...