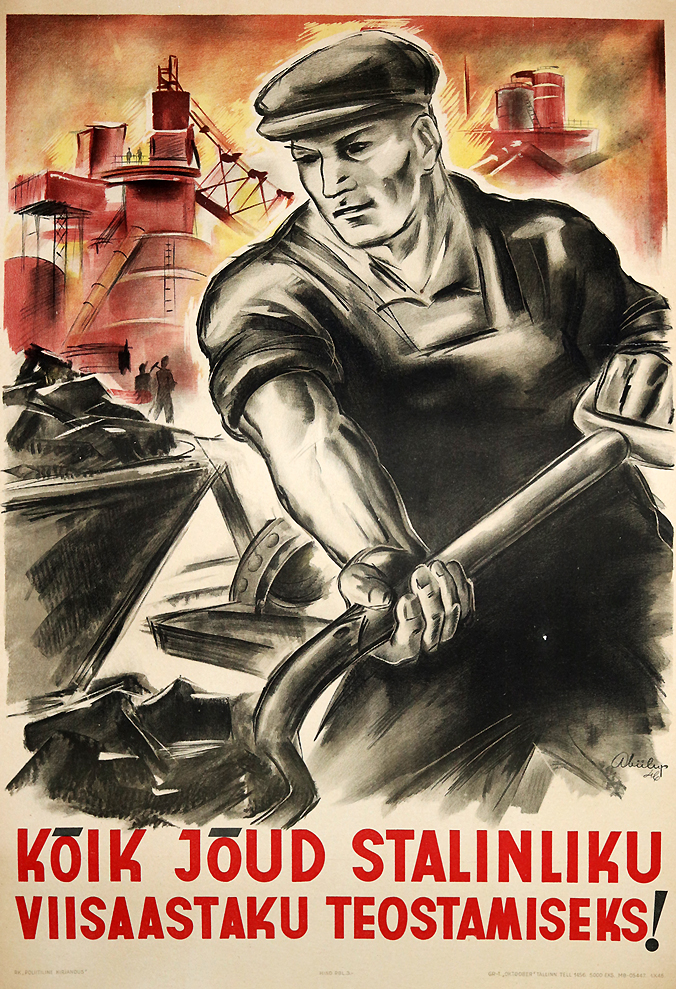 Artist: Viilup, Aleksei — Виилуп, Алексей
Aleksei Viilup designed exhibitions, engaged in portrait and decorative paintings and, he excelled in the design of posters. He was born in the town of Valga in southern Estonia. During the period of the 1930s until about 1940, a surge of interest in the graphic arts blossomed in Estonia. Works created in this period often used moderate elements of nationalism accompanied by strong composition. Viilup's chief interest was art and he graduated in 1941 from the state-run ...
Read More About This Artist
Printer: Oktoober (October) Printers, [Tallinn, Estonia] — Октябрьская Полиграфия, [Таллинн, Эстония]
Prior Estonia becoming a Republic of the USSR in 1940, there were approximately 100 independent printers in the nation. Under Soviet control, all printing and publishing industries were reorganized into a state monopoly. Oktoober Printing was one of roughly 18 state-controlled printers in the Estonian SSR. In 1973, the General Government of the Printing Industry was liquidated and in its place, the Estonian Printing Industry Production Association was formed. It took-in the various printing houses, including Oktoober.
Read More About This Printer
Publisher: Poliitiline Kirjandus (Political Literature) Publishing, Estonia — Издательство Политической Литературы
Political Literature Publishing was formed in Tallinn, the capital of the Estonian Soviet Socialist Republic. Political Literature was also part of the state-controlled publishing monopoly developed by the Soviet Union in September 1940 in order to reorganize publishing via the Estonian State Publishing Center, which combined five publishing entities. Political Literature chiefly produced socio-political material in addition to the magazines "Bolshevik" and "Young Lenin". In 1949, Political Literature Publishing was merged under the ...
Read More About This Publisher