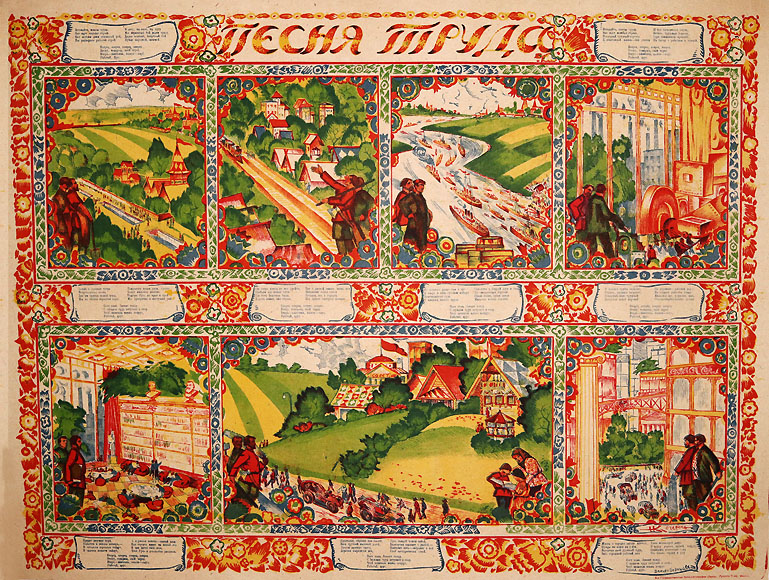 Artist: Kochergin, Nikolai Mikhailovich — Кочергин, Николай Михайлович
In the history of Soviet political posters, Nikolai Mikhailovich Kochergin is considered one of its pioneers. In 1918, Kochergin graduated from the Stroganov Central Industrial Art College where he later ventured into the professional world of graphic design. During the Russian Civil War, he supervised a poster publishing house and workshop in Kharkov, Ukraine. He was also one of the primary organizers of the Baku, Azerbaijan ROSTA (Russian Telegraph Agency) artist group that circulated posters throughout ...
Read More About This Artist
Printer: 5th State Typolithography Workshop, Moscow (formerly Russian Partnership) — 5-я государственный типо-литография, (бывш. Русское товарищество)
Located in the Chistye Prudy neighborhood at 14 Myl'nikov Lane (a.k.a. Zhukovskii Street); the 5th State Typolithography Workshop was the Russian Partnership prior to its nationalization. Around 1922 the printer was placed under the Mospoligraf printing trust during a period of consolidation that occurred in the Moscow printing industry. With a staff of over two thousand, Mospoligraf oversaw a myriad of printers under local sections. Subsequently, Mospoligraf was the second-largest printing trust in Moscow outside ...
Read More About This Printer
Publisher: Publisher not indicated —