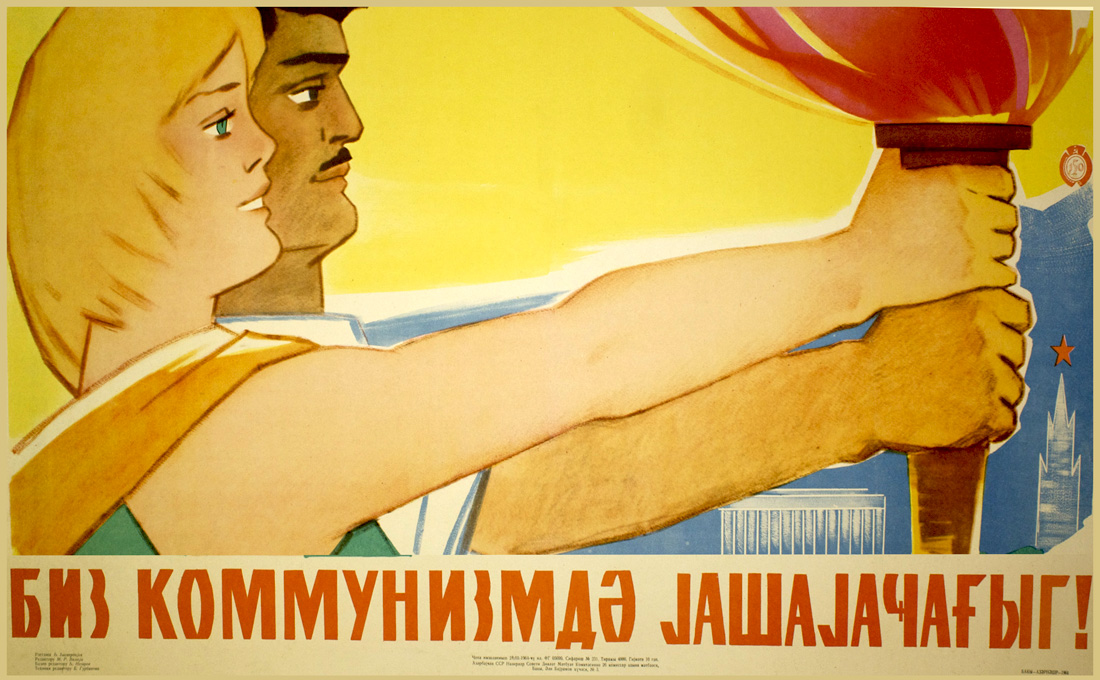 Artist: Hagverdiyev, Hassan — Хагвердиев, Хасан
Azerbaijani artist Hasan Hagverdiyev was a celebrated master of brush technique. His primary artistic focus was in portraiture and scenery. Poster art appears to have been only a sideline of his work output. In October 2017 in Baku, Azerbaijan a 100th anniversary exhibition was held in his honor. His son, Husein Hagverdiyev, is a noted Azerbaijani contemporary artist of the 21st century.
Read More...
Printer: 26 Baku Commissars Printing House, Azerbaijan — 26 Бакинских комиссаров в Баку, Азербайджана
The Printing House of the 26 Baku Commissars was at 3 Ali Bairomov Street in Baku, capital city of the Azerbaijan Soviet Socialist Republic. Ali Bairomov was a prominent Bolshevik in Baku. Historically, the 26 Baku Commissars were a group of Bolshevik and Left Socialist Revolutionary members of the Baku Soviet. During the period the commissars met in Baku, the city was the capital of the Azerbaijan Democratic Republic because it had been taken over by pro-Soviet forces and the Red Army. The commissars were captured by the anti-Soviet Centro-Caspian administration but liberated (reportedly by Red Army forces) thereafter. Ultimately, the 26 commissars were executed by firing squad in September 1918 by the anti-Soviet administration. From that point, the 26 Baku Commissars were considered fallen heroes of the October Revolution.
Read More...