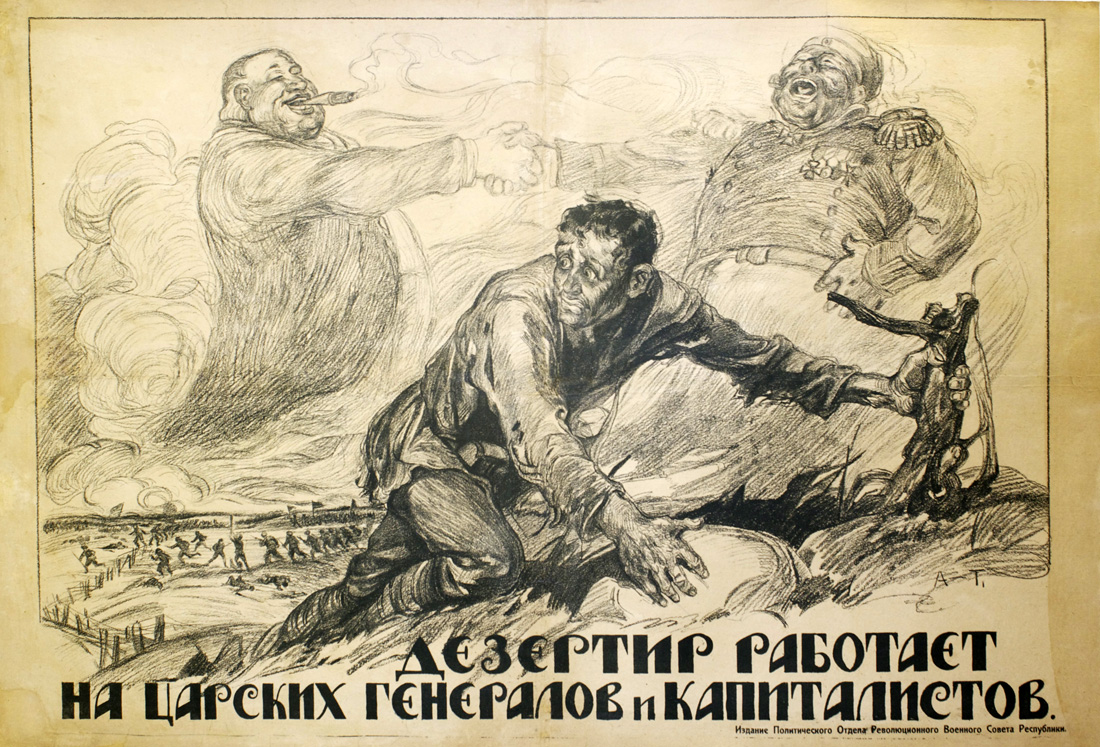 Artist: Apsit, Aleksandr Petrovich (Apsītis, Aleksandrs) — Апситис, Александр Петрович
Alexandr Petrovich Apsit grew up amidst dire poverty and yet he received free instruction under the tutelage of the Saint-Petersburg painter, Lev Dmitriev-Kavkazskii.  By 1902, Apsit was noticed by the popular journals, including Rodina [Motherland], Zvezda [Star], and Niva, for which he produced sketches. He also illustrated the publications of writings by A.M. Gorkii, N.S. Leskov, and A.P. Chekhov, as well as those by D. Bedny, I.S. Nikritin, and M.E. Saltykov-Shchedrin. Through these commissions he gained a stellar reputation, becoming one of the best-paid illustrators in the city.
Read More...
Printer: Printer not indicated —
Publisher: Political Directorate of the R.V.S.R. (Revolutionary Military Council of the Republic) — Политическое управление Революционного военного совета Республики (РВСР)
The Literary and Publishing Department of the Political Directorate of the Revolutionary Military Council of the Republic (R.V.S.R.) of the Russian Soviet Federative Socialist Republic (RSFSR) was also known as Litizdat in its portmanteau form. As a major publishing arm of the Red Army, Litizdat distributed 7.5 million posters, postcards and lubok-styled images from 1919 to 1922. Also see the publisher Litizdat.
Read More...