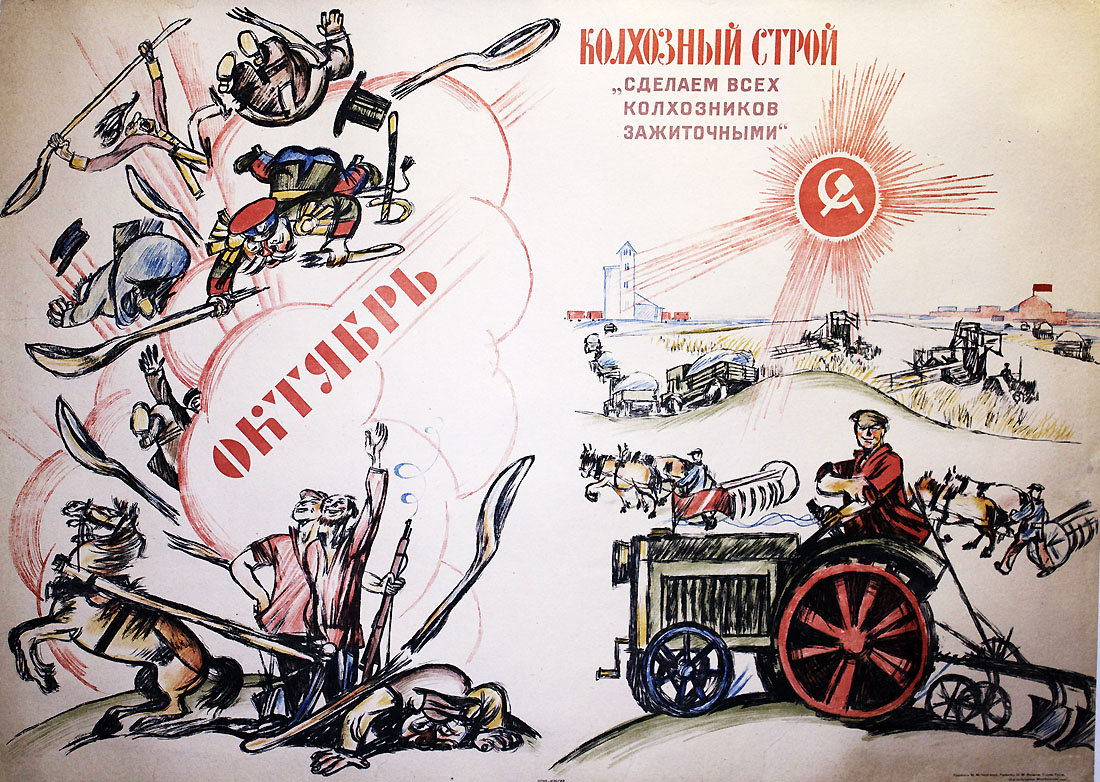 Artist: Cheremnykh, Mikhail Mikhailovich — Черемных, Михаил Михайлович
Mikhail Mikhailovich Cheremnykh is considered a master of Soviet satirical graphics. Born in Siberia, he relocated to Moscow in 1911 to study painting where he subsequently enrolled in MUZhViZ (Moscow School of Painting, Sculpture and Architecture). By 1919 he established the ROSTA (Russian Telegraph Agency) artist studio in Moscow and served as its artistic director until 1922, when he co-founded the satirical magazine Krokodil (Crocodile). From 1939 to 1941, the artist worked as a book illustrator and as a set ...
Read More About This Artist
Printer: Mosoblpoligraf (Moscow Regional Printers), Moscow — Мособполиграф (Московская областная полиграфская), Москва
Mosoblpoligraf was a regional, state-owned printing trust created in the mid-1920s during the period when the Soviet Union was consolidating its best and most productive printers. The 5th Lithography Workshop, 12th Lithography Workshop, 16th Lithography Workshop, and the 26th Lithography Workshop were all Moscow printers under the Mosoblpoligraf banner.
Read More About This Printer
Publisher: Ogiz-IzoGiz, Moscow-Leningrad — Огиз-Изогиз, Москва-Ленинград
Ogiz was the Association of the State Book and Magazine Publishers. Its main offices were located in Moscow and in Leningrad. The Sovnarkom of the Russian Socialist Federative Soviet Republic established Ogiz in 1930 to centralize publishing activities under a state monopoly in order to eliminate duplication of printed material, streamline and control publishing production and output, and to create a base for marketing books, training and technical manuals. In 1931, the Central Committee of the USSR ...
Read More About This Publisher