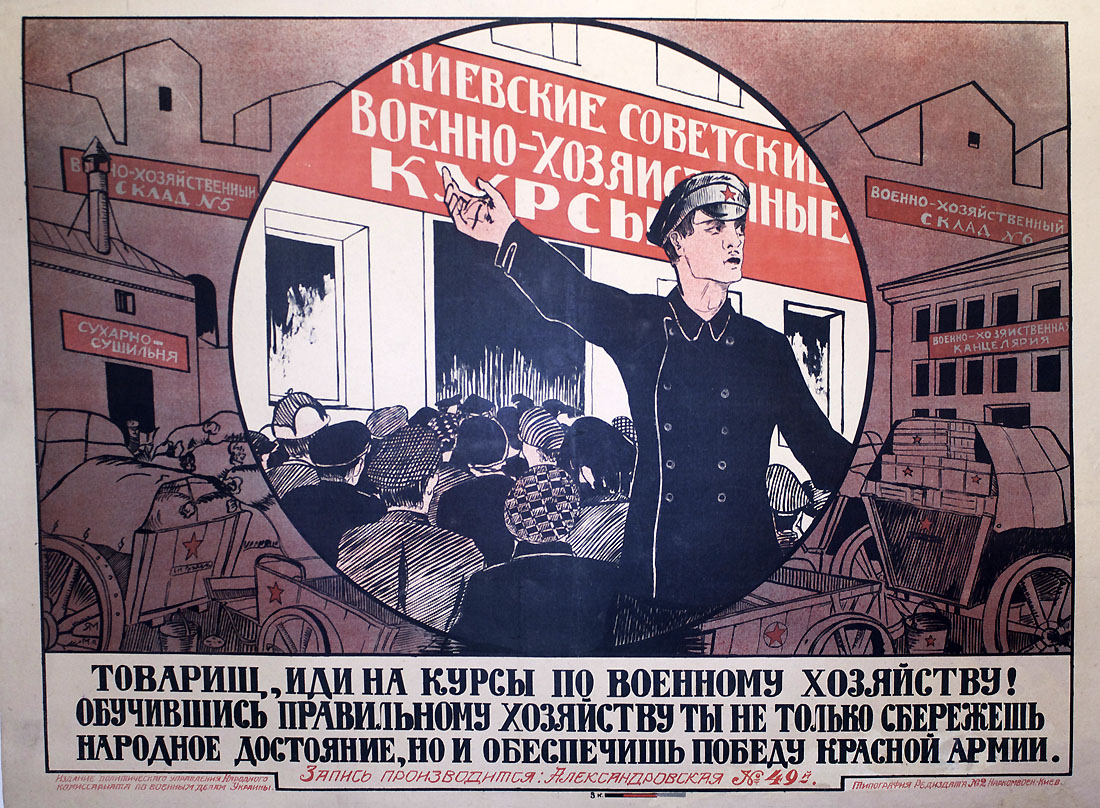 Printer: Redizdat (Editorial and Publishing Department) —
Redizdat was created around mid-1919. It opened printing and publishing outlets in various Soviet-controlled zones during the Russian Civil War. Between April and June 1919, the Ukrainian branch of Redizdat (in concert with Narkomvoen, Ukraine) printed over six million propaganda leaflets and over one million copies of the book Red Army. Additionally, Redizdat printed or published materials for Narkomzem (People's Commissariat for Agriculture and Foodstuffs) and the UKRPURA (Ukrainian Political Administration) during the civil war. By 1937, Redizdat was transformed into Gidrometeoizdat (State Scientific and Technical Hydro-meteorological Publishing House).
Read More...
Publisher: Political Directorate of the Military Region [Ukraine] —
For military administrative purposes, military regions existed since the tsarist era. Furthermore, the territory of the Soviet Union was divided into military districts and each district had political directorates. Leaders of the directorates (typically a commanding general) were subordinate to a political director. Political directorates were subdivided into sections and the sections handled political work for the Bolshevik Party. For example, there were sections on Agitation/Propaganda; Party Organization; Komsomol (a youth organization); Culture; Instruction; Information; Personnel; Education (military schools) and other ancillary needs. Historically, the Military Region of Ukraine came about during the Ukrainian-Soviet War, fought from 1917 until 1921. This was a military conflict for control of Ukraine fought between Ukrainian nationalist forces, Polish-Ukrainian forces against pro-Bolshevik Ukrainians and Soviet Russians all vying for control of the region. The Second Winter Campaign of 1921 is generally recognized as the end of the conflict.
Read More...