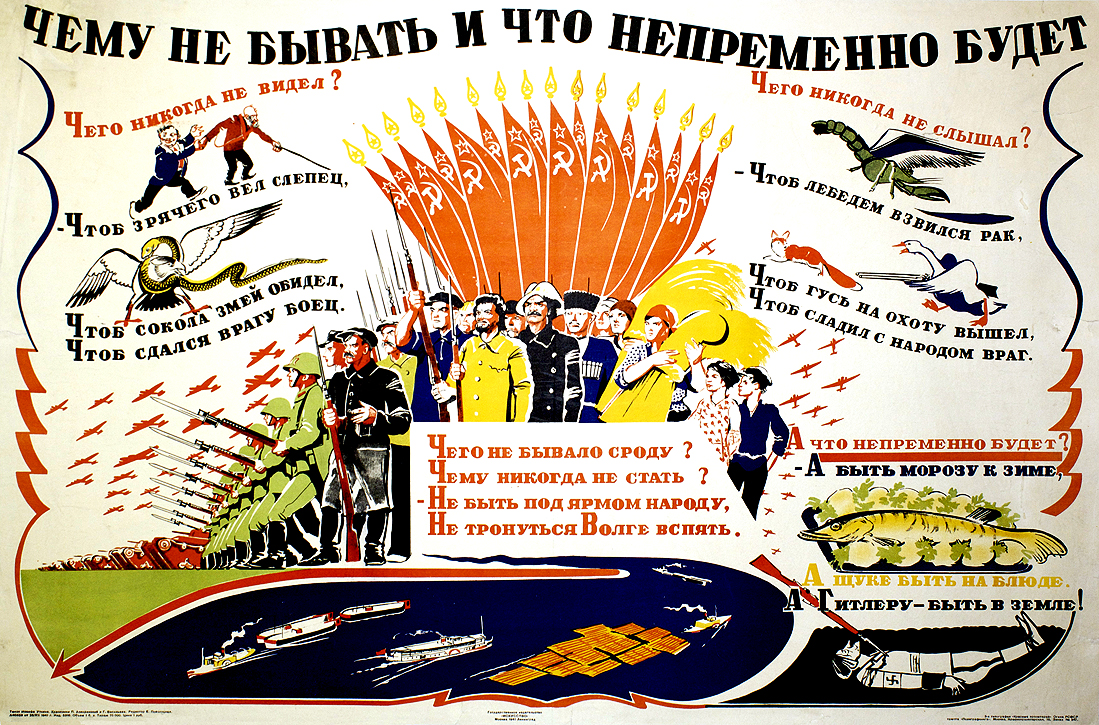 Artist: Aliakrinskii, Petr Aleksandrovich — Алякринский, Петр Александрович
Petr Aleksanderovich Aliakrinskii was a painter, graphic designer, and a poster artist, he studied at the Moscow School of Painting, Sculpture and Architecture under the tutelage of S. V. Ivanov from 1909 to 1910. He began to exhibit his works in 1910. Starting in 1912, while working as a theater artist in Ryazan' and Kozlov, he created caricatures and sketches for Muscovite theater magazines. Between 1918 and 1921, Aliakrinskii taught at the Free Art Studios in Yaroslavl' where he also helmed the local branch of ROSTA (Russian Telegraph Agency) that produced Civil War propaganda posters and participated in the restoration of architectural monuments. In 1922, he moved to Moscow and began illustrating the magazines Krasnaia niva [Red Niva] and 30 dnei, [30 days] in addition to the newspaper Bezbozhnik [Godless]. Additionally, he illustrated and designed books for various publishing houses such as Goslitizdat, Detgiz, et al. During WWII, he created narrative agitation posters for TASS (Telegraph Agency of the Soviet Union). Toward the end of his life he was awarded the title of Honored Artist of the Soviet Union.
Read More...
Artist: Vasil'eva, Galina Il'inichna — Васильева, Галина Ильинична
Printer: 3rd Krasnii Proletarii (Red Proletarian) Typography Workshop of Poligrafkniga of Ogiz, Moscow — 3-я типография Красный Пролетарий Типография треста Полиграфкнига (ОГИЗа)
The 3rd Krasnii Proletarii Typography Workshop of the Poligrafkniga Trust was located at 16 Krasnoproletarskaia Street in Moscow. It was placed under the Poligrafkniga (Book and Magazine Printing) Trust around 1920.
Read More...
Publisher: Iskusstvo (Art Publishing House), Moscow-Leningrad — Искусство, Москва-Ленинград
Iskusstvo was the Art Publishing House (A.K.A. Visual Arts Publishing) that was created in 1936 from Ogiz-Izogiz (State Art and Literature Publishing House). It disseminated books and journals dealing with graphic design and the fine arts, and it issued numerous posters. Since the Iskusstvo banner was part of the State Printing Works in Leningrad (St. Petersburg) and Moscow, its two main offices were located in those two cities.
Read More...