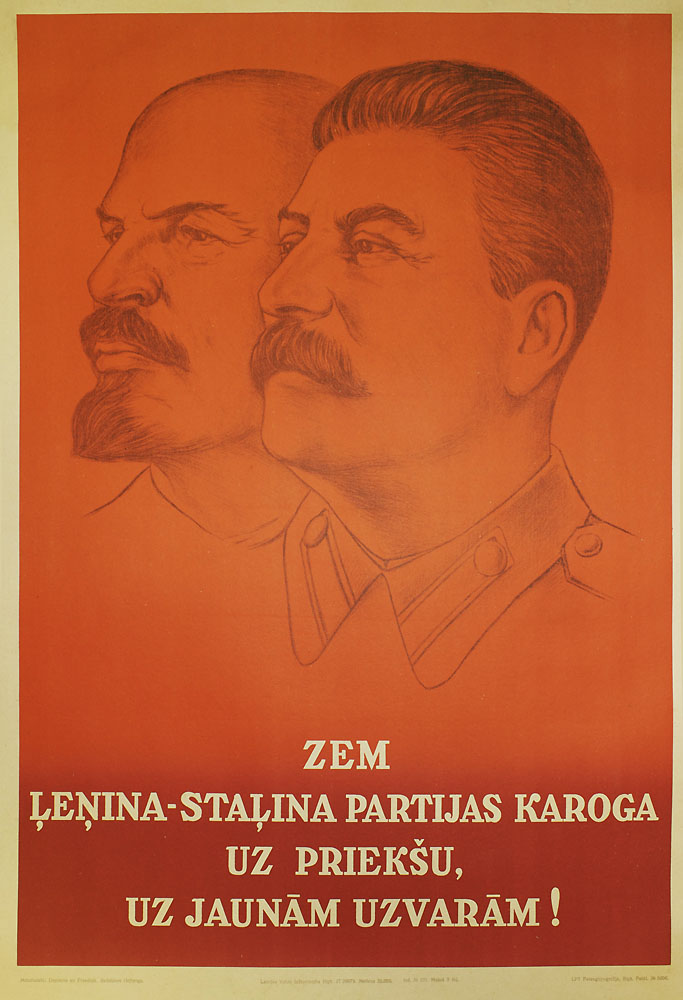 Artist: Denisov, Nikolai Viktorovich — Денисов, Николай Викторович
The son of the renowned Soviet poster artist Viktor Deni, Nikolai Denisov became a successful artist in his own right. He began his design career just prior to World War II and he often worked in collaboration with his wife, Nina Vatolina, who happened to be one of his father's favorite students. Denisov and Vatolina graduated from the Moscow Art Institute (class of 1942) and had married during the time they were students. Many of Vatolina's early posters are co-signed by Nikolai Denisov as the two worked together consistently until Denisov was drafted into the Army during World War II. For his service, Denisov was awarded the medal For Battle Merit and the medal For Victory Over Germany. Vatolina divorced him in 1945.
Read More...
Artist: Pravdin-Rykhlov, Vladislav Grigor'evich — Правдин-Рыхлов, Владислав Григорьевич
Vladislav Grigor'evich Pravdin attended the Ogiz Printing Technical School in Moscow and began exhibiting professionally in 1938. In 1940, he graduated from the Moscow Fine Art Institute and upon graduation, lived and worked in Moscow. He joined the Grekov Studio of Military Art in 1943 and practiced there until 1969. One of his famous posters that typifies Stalinist-era Socialist Realist style is Rabotat' tak chtoby tovarishch Stalin spasibo skazal! [Work well so that Comrade Stalin would thank you!] (1949). The poster established a mythical message of harmony between the Soviet State and its people. Among other exhibitions during his career, Pravdin presented his posters at the All-Union Exhibition of Art in Moscow in 1949.
Read More...
Printer: LPT Typography, Riga —
Publisher: Latgosizdat (Latvian State Publishing House) — Латгосиздат
Until World War II, Latvia had thriving industries for publishing and printing. Between the Soviet annexation of Latvia in 1940 and the German occupation in 1941, the nation's position as a European publishing hub greatly changed. Latgosizdat was formed out of Lativa's largest publisher, Liesma (Flame). Around 1940, Liesma publishing was nationalized during the period of Soviet annexation and it became VAPP (Department of State Book Publishers and Polygraphic Enterprises)-- a state-run entity. From 1946-1964, VAPP was named Latgosizdat and in 1965, it was re-named Liesma. Serving as a branch of the state publisher, Liesma specialized in original literature, foreign authors, monographs, fine art and posters.
Read More...