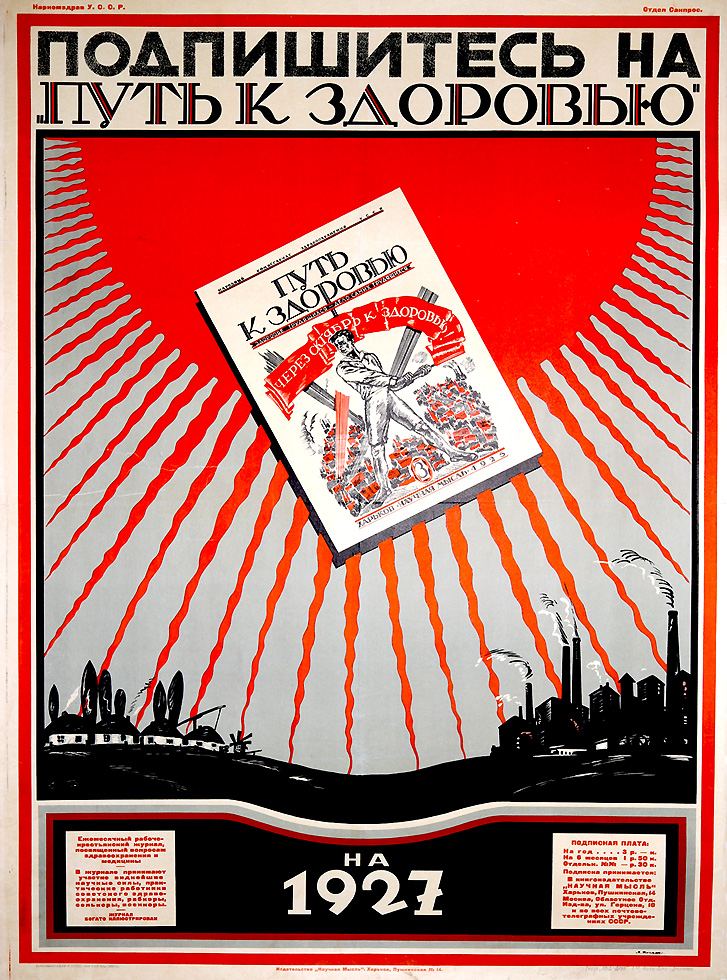 Artist: Raplan, L. — Раплан, Л.
Printer: Kiev-Druk Trust Typography Printing House, Kiev — Tипография Киев-Друк Трест, Киев
Kiev-Druk (i.e. Kiev-Printing) was a major typographic firm in the Ukrainian Soviet Socialist Republic (Ukrainian SSR) from the 1920s into the 1930s. It turned out printed materials including books and posters. While its offices were located at 19 Lenin Boulevard in Kiev, the printer also had satellite departments around the Ukrainian SSR.
Read More About This Printer
Publisher: Scientific Thought Publishing House, Kharkov — Издательство Научная Мысль, Харьков
Scientific Thought Publishing House was located at 14 Pushkin Street in Kharkov, Ukrainian SSR. According to research, the publisher was formed in November 1922 as an organ of the Editorial and Publishing Commission of the Academy of Sciences of Ukraine. In 1927, it became the publishing arm of the All-Ukrainian Academy of Sciences. In 1964, the publisher assumed the name "Scientific Thought" (Naukova dumka). Historically, Scientific Thought has been the preeminent academic publishing house in Ukraine. It ...
Read More About This Publisher