Vkutemas (Higher Art and Technical Studios) Lithography Workshop
Вхутемас Литография
Founded in 1920 in Moscow, Vkhutemas (Higher Art and Technical Studios) was an arts school. It was formed by a merger of two previously existing Imperial-era schools: the Moscow School of Painting, Sculpture and Architecture and the Stroganov School of Applied Arts and, it replaced Svomas (Free State Art Studios), the initial name given to art schools founded by the Soviets shortly after the October Revolution.
Vkhutemas workshops (Moscow and Petrograd among the foremost) had courses in graphic design, sculpture, architecture, printing, painting, textiles, ceramics, woodworking, and the metallic arts. In 1927, Vkhutemas was renamed Vkhutein (Higher Art and Technical Institute). In 1930 Vkhutein was closed due to a reform of the Soviet educational system.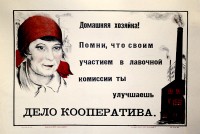 Sources & Citations
Rüedi, K. (2010). Bauhaus dream-house: Modernity and globalization. Oxford: Routledge.
Solomon R. Guggenheim Museum. (1992). The great utopia: The Russian and Soviet avant-garde, 1915-1932. New York: Guggenheim Museum.
dw.com (Overlooked Russian Bauhaus in limelight in Berlin) December 17, 2014.