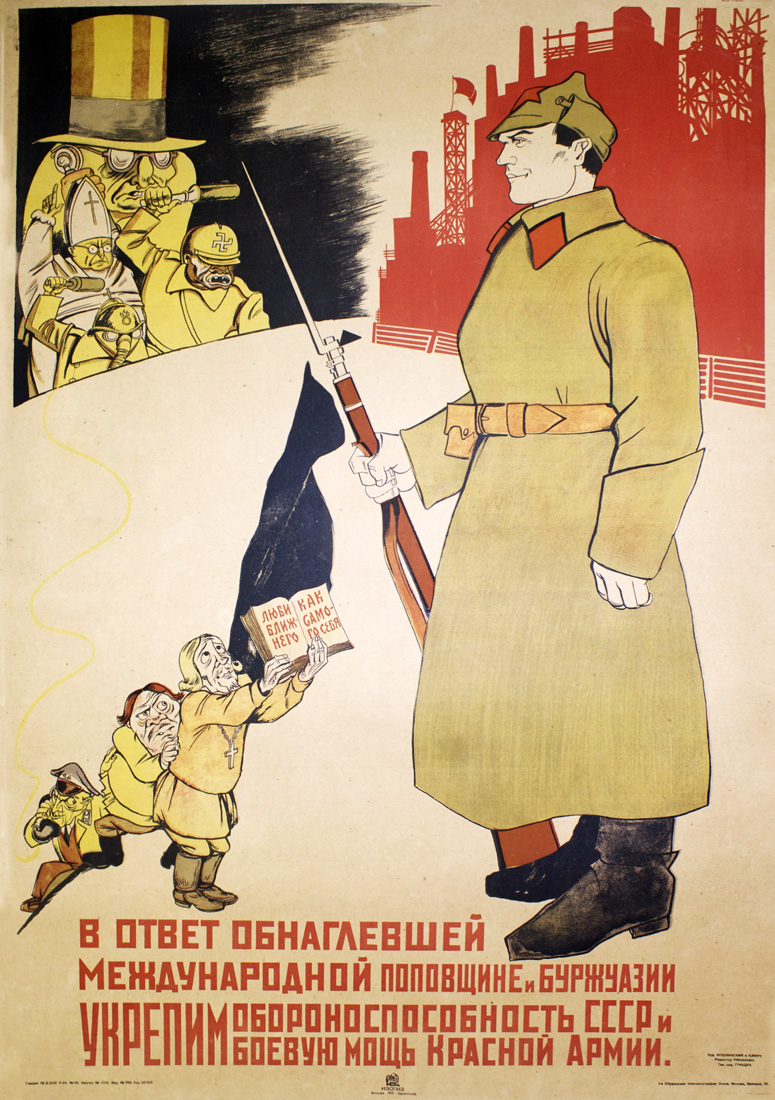 Artist: Kozlinskii, Vladimir Ivanovich — Козлинский, Владимир Иванович
Vladimir Ivanovich Kozlinskii was one of Vladimir Mayakovskii's artistic collaborators and he was the head artist of the Petrograd ROSTA (Russian Telegraph Agency) Studio. Reportedly, Kozlinskii was born at Kronstadt naval base on Kotlin Island just west of St. Petersburg. His artistic endeavors began when he attended the Drawing School of the Society for the Encouragement of Arts, enrolling in 1907. In addition to studying art under a number of private instructors, in 1911, Kozlinskii enrolled in IAN (Higher Art School of Painting, Sculpture and Architecture) in Moscow where he studied engraving. During this period, he became friends with Vladimir Lebedev, an artist who would later be an important Soviet graphic designer.
Read More...
Artist: Klinch, Boris Grigor'evich (Petrushanskii, Garri) — Клинч, Борис Григорьевич (Петрушанский, Гарри)
Printer: 1st Exemplary Ogiz RSFSR Typography Workshop of the Poligrafkniga Trust, Moscow — 1-я Образцовая типография Огиза РСФСР треста Полиграфкнига, Москва
1st Exemplary Ogiz RSFSR Typography Workshop of the Poligrafkniga Trust was located in Moscow at 28 Valovaia Street. Historically, the workshop began as the Sharapov-Sytin Partnerhip in the era prior to the Russian Revolution. Ivan Dmitrievich Sytin (1851-1934) was the son of a peasant. He opened a small print shop in Moscow using a single press and by the start of the 20th century his printing business (at Valovaia and Piatnitskaia streets) was the largest private printing company in tsarist Russia.
Read More...
Publisher: IzoGiz (State Publishing House of Fine Art), Moscow-Leningrad —
Izogiz was the fine arts section of Ogiz publishing. In 1963, Izogiz was re-named Sovetskii khudozhnik, "Soviet Artist".
Read More...