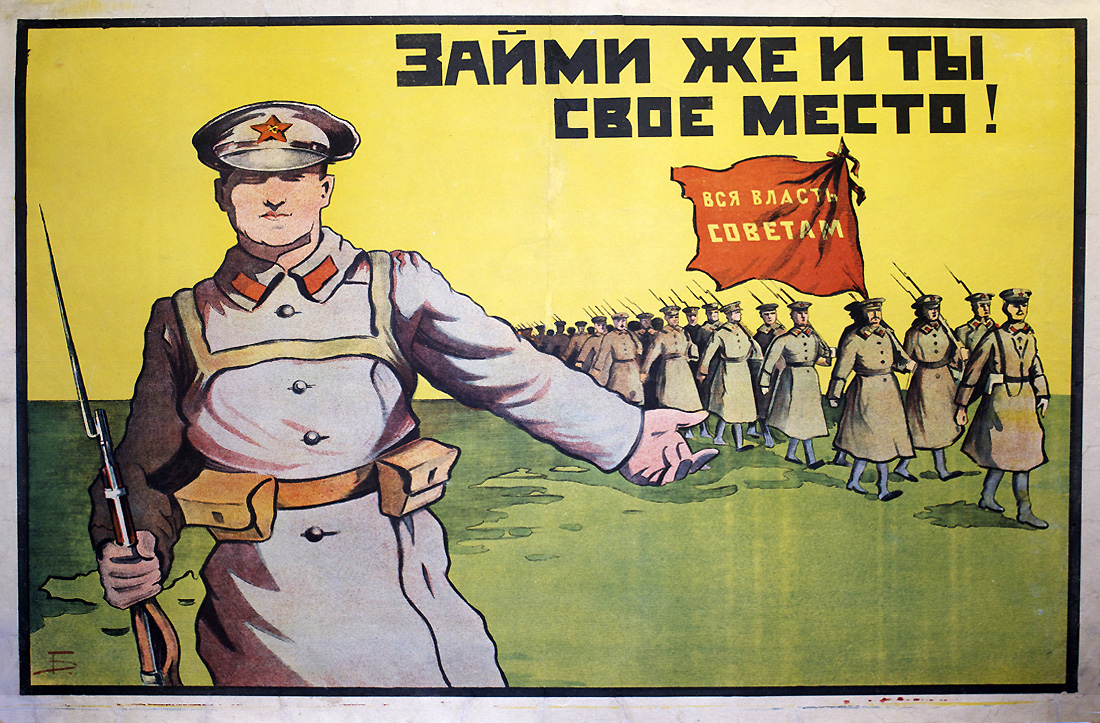 Artist: Boichuk, Timofei L'vovich — Бойчук, Тимофей Львович
Timofei Boichuk was a member of ARMU (Association of Revolutionary Art of Ukraine). He produced figurative portraits and genre painting primarily in tempera. His most noted works are, Torgovtsi semechakmi [Sellers of Sunflower Seeds], Gruppovoi portret [Group Portrait] and, Molochnitsa [Milkmaid]. All three paintings are held in the collection of the Ukrainian Museum of Fine Arts in Kiev. In 1919, during the Russian Civil War, Boichuk assisted in the design of murals for the Red Army barracks at Kiev and he worked on decorations for the Kiev Opera House. Throughout the civil war Boichuk produced a number of political and military propaganda posters for the Red Army, signing his works with the initials T.B. He was the younger brother of Mikhail L'vovich Boichuk, a prominent artist in his own right.
Read More...
Printer: Printer not indicated —
Publisher: Narkomvoen (People's Commissariat for Military Affairs) — Наркомвоен
Formal reorganization of the armed forces took place during the dismantling of the war ministry of the Russian Provisional Government. The most immediate task was dealing with the demobilization of Imperial Army troops and the second critical need was the formation of a new Red Army and Red Navy, along with the introduction of universal military training. During the Russian Revolution, Tsarist elements in the rank and file of the armed forces were eliminated and replaced by Bolshevik-friendly Red Guards, armed workers and regular soldiers and sailors. Initially, the Soviets formed the Committee for Military Affairs to take charge of this military organization but it was reorganized as the People's Commissariat for Military Affairs (Narkomvoen). Narkomvoen was the central apparatus that managed the Soviet military until the 1930s. In March 1918, Leon Trotsky became the head of Narkomvoen and led it through the Russian Civil War, a post he held until 1923. Narkomvoen was renamed the People's Commissariat for Defense (NKO) in 1934.
Read More...