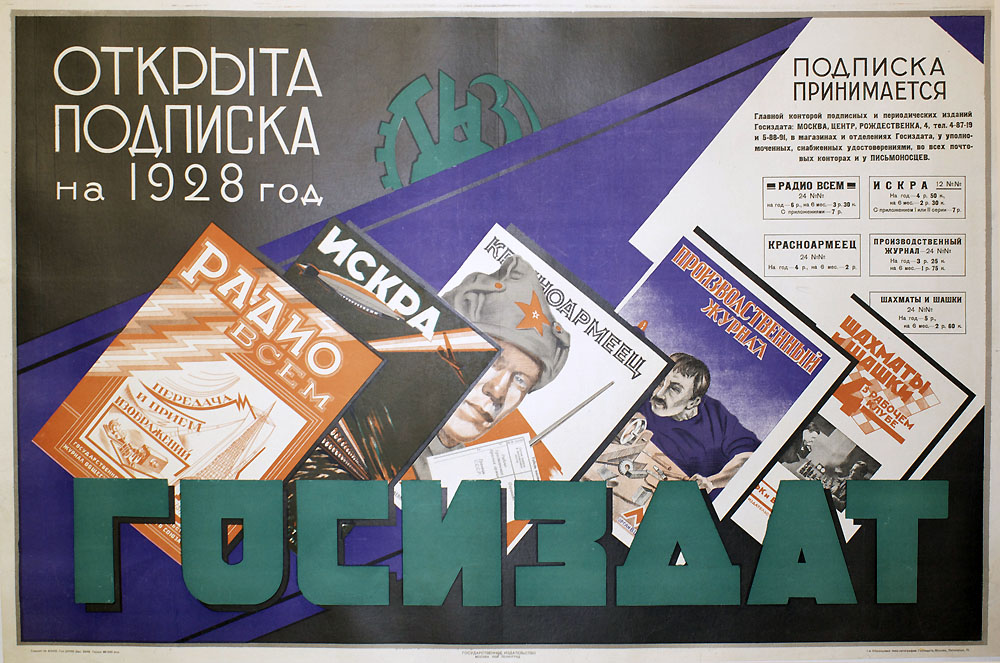 Artist: Artist Unknown — неизвестный художник
The artist's name on the poster is not indicated. By assigning Artist Unknown to a poster it also could mean the artist used a chop mark whereby no signature is seen thus rendering the artist's identity anonymous.
Read More About This Artist
Printer: 1st Exemplary Gosizdat Typolithography Workshop, Moscow — 1-я Образцовая типография Госиздата, Москва
The 1st Exemplary Gosizdat Typolithography Workshop was located in Moscow at 28 Valovaia Street. Historically, the workshop began as the Sharapov-Sytin Partnerhip in the era prior to the Russian Revolution. Ivan Dmitrievich Sytin (1851-1934) was the son of a peasant. He opened a small print shop in Moscow using a single press and by the start of the 20th century his printing business (at Valovaia and Piatnitskaia streets) was the largest private printing company in tsarist ...
Read More About This Printer
Publisher: Gosizdat (State Publishing House) — Госиздат (Государственное издательство)
Gosizdat was established in Moscow in May 1919 via the merger of the publishing departments of VTsIK (All-Russian Central Executive Committee), the Moscow Soviet, the Petrograd (St. Petersburg) Soviet, the People's Commissariat of the RSFSR, and others. Gosizdat was the first large-scale, state-controlled publisher formed with the purpose of joining the nation's printing and publishing entities under a single institution. While it existed somewhat independent of the government, by 1930 Gosizdat served as the base for the ...
Read More About This Publisher