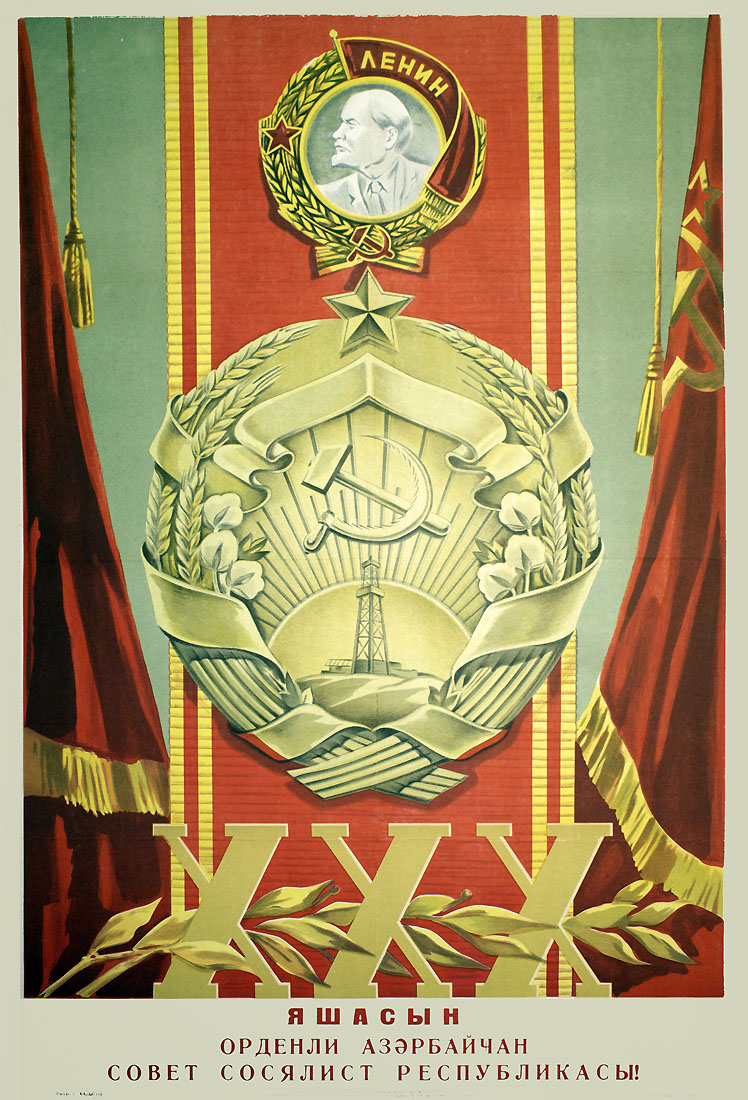 Artist: Khalykov, Gazanfar — Халыков, Газанфар Алекпер оглы
Gazanfar Alekper ogly Khalykov was a graphic designer from Azerbaijan SSR. Khalykov graduated from the Art Technical College in Baku. In 1928 he became a member of AzORRIIS (Azerbaijan Revolutionary Art Workers Association). He also was a contributor to numerous Azeri satirical magazines including Molla Nasraddin and Kirpi [Hedgehog]. Additionally, the artist illustrated the work of the Azerbaijani poet and philosopher Nizami Ganjavi. For the majority of his life, Gazanfar Khalykov lived and worked in Azerbaijan. ...
Read More About This Artist
Printer: Typography named for the 26 Baku Commissars, Baku — Типография нм. 26 бакинских комиссаров, Баку
The 26 Baku Commissars Typography was located at 3 Ali Bairamov Street in Baku, Azerbaijan Soviet Socialist Republic. Historically, the 26 commissars were a group of Bolshevik and Left Socialist Revolutionary members of the Baku Soviet (a.k.a. Baku Commune), a communist quasi-state in the Azerbaijan Democratic Republic of 1917-1918. Their rule was cut short when they were apprehended by the anti-Soviet Centro-Caspian administration of Azerbaijan. Although they were freed (by Red Army forces), the commissars were ...
Read More About This Printer
Publisher: Azerneshr Publishing House, Baku — Издательство Азернешр, Баку
Azerneshr (Azərnəşr) began operations in the early 1920s and served as the State Publishing House of the Azerbaijan Soviet Socialist Republic. As an active publishing house in the 21st century, Azerneshr also publishes material in languages such as Lezgi, Kurdish, Udi and Khinalug.
Read More About This Publisher