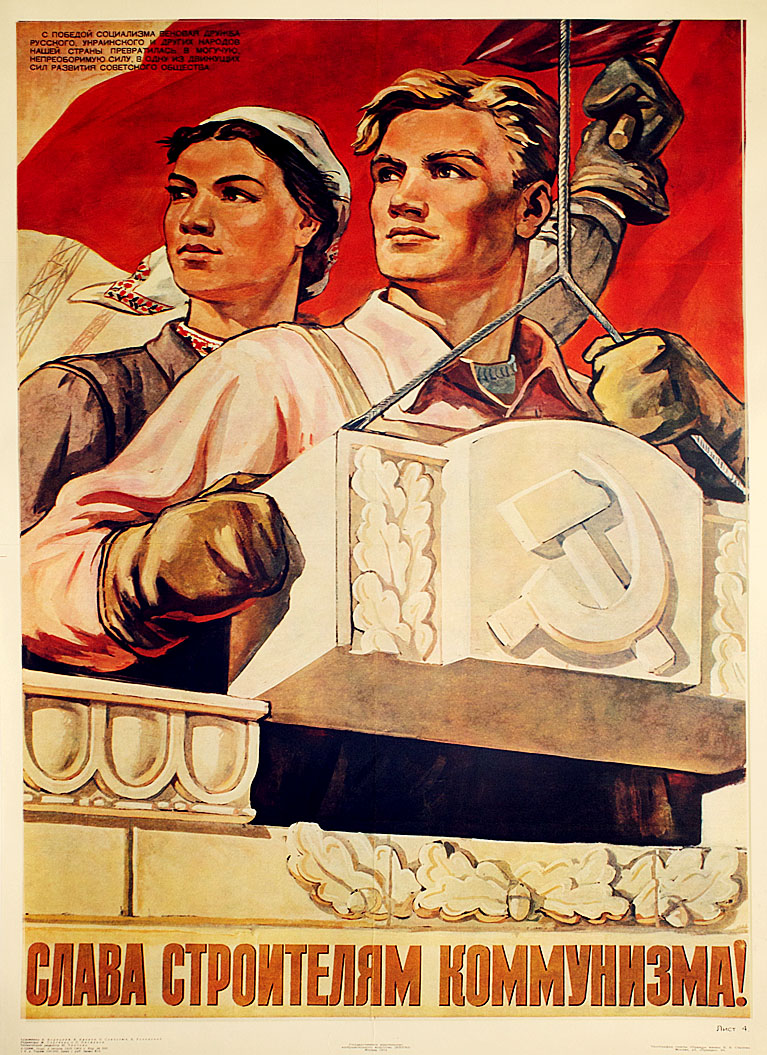 Artist: Koretskii, Viktor Borisovich (Koretsky, Victor) — Корецкий, Виктор Борисович
Of the noted Soviet poster artists of the photomontage and Socialist Realism aesthetics, Viktor Borisovich Koretskii stands out as one of the most iconic. Koretskii attended the Secondary Professional Art School in Moscow from 1921 to 1929. He began working as a professional graphic designer in 1931 and he immediately gained recognition in the Soviet Union. His professional break-through occurred while working for the major state publishing houses Iskusstvo and Ogiz-Izogiz. During this that period of his work, he concentrated on (and perfected) his technique of photomontage. However, the period of the early 1930s in the Soviet Union meant that Koretskii had to move away from his own avant-garde style of discontinuous photomontage in order to be more consistent with the Socialist Realist dogma dictated by the government. During the 1930s, Koretskii also worked as an artistic director and decorator for Nikolai Okhlopkov 's Realistic Theatre and for Yurii Zavadsky's theatre-studio. From 1939 to 1987, he was a member of the editorial board of the film advertising publishing house Reklamfilm.
Read More...
Artist: Ivanov, Konstantin Konstantinovich — Иванов, Константин Константинович
Konstantin Konstantinovich Ivanov initially received art instruction from his father, the noted graphic artist Konstantin L. Ivanov. Formal instruction began for Konstantin Konstantinovich as early as 1933 when he attended an art school in Leningrad. It was from that point that he dedicated his life to graphic design. During World War II, Ivanov worked on the front line while contributing to posters produced by the TASS (Telegraph Agency of the Soviet Union) Studios.
Read More...
Artist: Savostiuk, Oleg Mikhailovich — Савостюк, Олег Михайлович
Artist: Uspenskii, Boris Aleksandrovich — Успенский, Борис Александрович
Printer: Typography Workshop named for I.V. Stalin of "Pravda" Newspaper, Moscow —
Read More...
Publisher: IzoGiz (State Publishing House of Fine Art), Moscow —
Izogiz was the fine arts section of Ogiz publishing. In 1963, Izogiz was re-named Sovetskii khudozhnik, "Soviet Artist".
Read More...