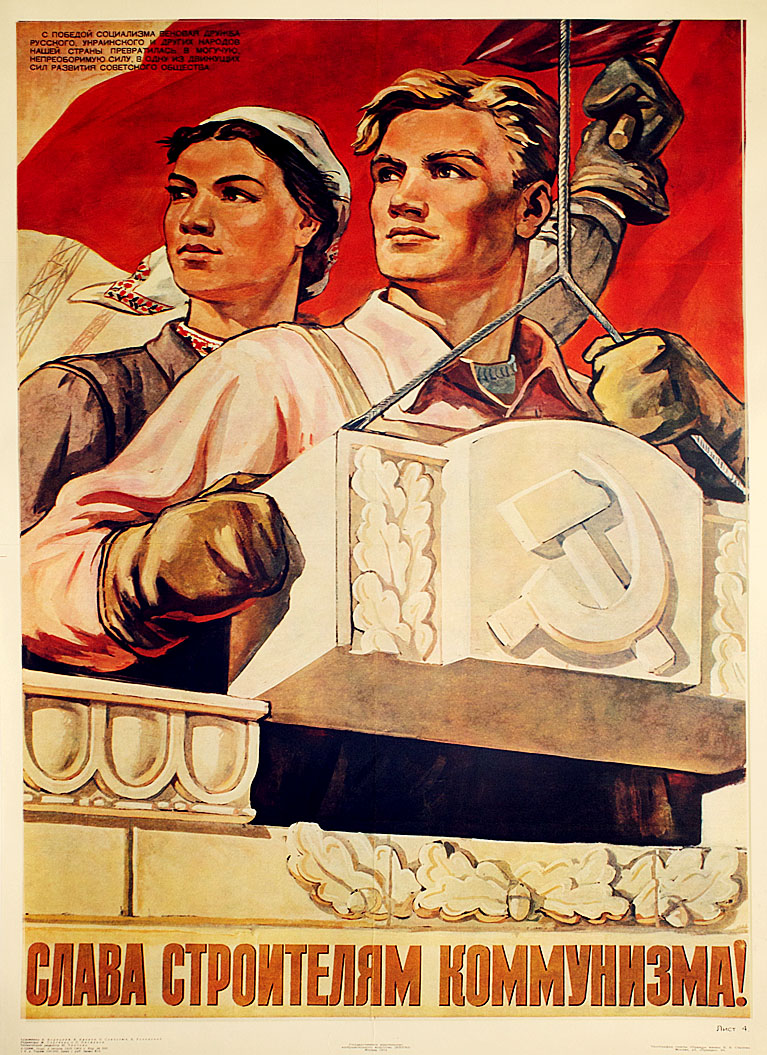 Artist: Koretskii, Viktor Borisovich (Koretsky, Victor) — Корецкий, Виктор Борисович
Of the photomontage poster artists of the 20th century, Viktor Borisovich Koretskii stands out as one of the most iconic. His prolific career in the Soviet Union began in the 1930s and ended in the 1980s, and his unique artistic style influenced generations of graphic artists. From 1921 to 1929, Viktor Koretskii attended the Moscow Secondary School of Professional Art, and by 1931 he was working as a professional graphic designer. Koretskii perfected his own technique of photomontage ...
Read More About This Artist
Artist: Ivanov, Konstantin Konstantinovich — Иванов, Константин Константинович
Konstantin Konstantinovich Ivanov received his initial art instruction from his father, the noted graphic artist Konstantin L. Ivanov. Formal instruction began in 1933 when Konstantin Konstantinovich attended an art school in Leningrad. It was from that point on that he dedicated his life to graphic design. During World War II, Konstantin Ivanov served on the front line while contributing to posters designed by the TASS (Telegraph Agency of the Soviet Union) Studios. In 1949, he began professionally ...
Read More About This Artist
Artist: Savostiuk, Oleg Mikhailovich — Савостюк, Олег Михайлович
Artist: Uspenskii, Boris Aleksandrovich — Успенский, Борис Александрович
Printer: Typography named for I.V. Stalin of the Pravda Newspaper, Moscow — Типография газеты правда имен И.В. Сталина, Москва
Pravda (Truth) was the main newspaper of the Communist Party of the USSR until 1991. In publication since 1912, the paper moved its offices to Moscow shortly after the October Revolution. During the mid-1930s, Pravda moved into new offices at 24 Pravda Street in Moscow and it shared offices with the periodicals Trud (Work), Sel'skaia zhizn' (Village Life), and the youth newspaper Komsomol'skaia Pravda (Komsomol Truth). The lower level of the building housed the printing plant....
Read More About This Printer
Publisher: IzoGiz (State Publishing House of Fine Art), Moscow — Изогиз (Государственное издательство изобразительного искусства), Москва
The history of IzoGiz begins with the formation of Ogiz, the Association of the State Book and Magazine Publishers. In 1930, the Sovnarkom of the Russian Socialist Federative Soviet Republic established Ogiz to centralize publishing under a monopoly in order to eliminate duplication of printed material, to streamline and control publishing production and its output, and to create a base for marketing books, training and technical manuals. In 1931, the Central Committee of the USSR ordered certain ...
Read More About This Publisher