Angelushev, Boris
Ангелушев, Борис


Born October 25, 1902, Plovdiv, Bulgaria; died August 24, 1966, Sofia, Bulgaria

Boris Angelushev was born into a family of teachers. Instead of following the path of educational instruction, he was admitted into the Academy of the Arts in Sofia, Bulgaria. After winning a major art competition, he traveled to Berlin and enrolled in the Berlin Academy of Arts where he studied applied graphics and worked as a freelance artist. Starting in 1924, Angelushev supplied drawings and cartoons for leftist German newspapers. During this period he used the alias Bruno Fook on designs he created. He also worked as a designer of posters for the German Communist Party in the mid-1920s.

Participating in exhibitions by German anti-fascist artists, Angelushev's work was shown in Berlin, Paris and Amsterdam. In collaboration with John Heartfield, one of Germany's leading illustrators, Angelushev grew artistically. His work (sketch-like images with ink or chalk) was innovative and new in contrast to the woodcut technique often used by German modernists. With the political rise of the Nazi Party in 1933, Angelushev fled Germany and resided in Prague where he worked for the Arbeiter Illustrierte Zeitung, the German Illustrated Workers Newspaper, published in Czechoslovakia. Angelushev also illustrated for Die Rote Fahne (The Red Flag) and Die Rote Front (The Red Front), other leftist German periodicals of the period. From 1934 to 1935, he lived as a political refugee in Zurich, Switzerland but continued to publish drawings in left-leaning periodicals and he further collaborated with German anti-fascist newspapers published outside Nazi Germany.

By the mid-1930s, Angelushev moved to Sofia, Bulgaria where he lived for the rest of his life. From 1938 to 1948, he was a staff artist at Hemus Publishing House and he was illustrating and designing books, posters and graphics. During the post-war era, he ventured into book design for children's literature. Angelushev also designed a multitude of Bulgarian postage stamps from 1938 to 1953.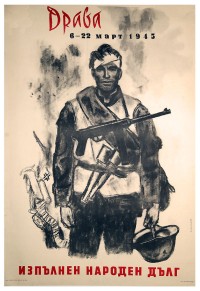 Fuentes
Wünsche, I. (2019). The Routledge companion to Expressionism in a transnational context. New York: Routledge.
artinstamps.blogspot.com (bio, Angelushev)
lambiek.net/artists (bio, Angelushev)