Antonov, Konstantin Mikhailovich
Антонов, Константин Михайлович


Born November 30, 1924, Moscow, USSR; died October 8, 2010, location unknown, presumably Russia

Konstantin Mikhailovich Antonov was a Soviet painter and graphic artist. He studied at the Moscow Secondary Art School from 1936 to 1941. After leaving the school, Antonov received a recommendation for an expedited admission into the Moscow State Art Institute. During his first year there, the Second World War began. Antonov served on the First Ukrainian Front with the 10th division RVGK (Artillery Reserve of the Supreme High Command). He attained the rank of sergeant and was a gun commander. During the war, Antonov participated in the liberation of Orel, Kiev, Chernigov, and other cities. In 1945 he was wounded and received a disability leave. During the post-war, Antonov enrolled in the art and graphic department of Vladimir Petrovich Potemkin Municipal Pedagogical Institute (a.k.a. Moscow State Pedagogical Institute). As a professional artist, Antonov designed advertising posters for the films "They Fought for the Motherland" (1975), "Wounded Game" (1977), "Dust Under the Sun" (1978), "Yaroslavna, Queen of France" (1979), and "Love and Fury" (1978). He also designed a bevy of political posters such as "Glory to the heroic armed forces of the Union of Soviet Socialist Republics! (1976); a series "Invincible Legendary" dedicated to the 60th anniversary of the Soviet Army (1978), and "40 years of the Great Victory" (1984). Konstantin Antonov was a member of the Union of Artists of the USSR and he was bestowed the title of Honored Artist of the Russian Soviet Federative Socialist Republic.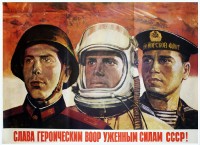 Fuentes
Vol'tsenburg, O.E., et al. (1970). Biobibligraphicheskii slovar' khudozhniki narodov SSSR (Vols.1). Moscow: Iskusstvo. (p. 170, bio)
tramvaiiskusstv.ru (bio)
reklamfilm.com (bio, date and place of birth)
ruspanteon.ru (date of death)