Baiuskin, Vasilii Stepanovich
Баюскин, Василий Степанович


Born April 8, 1898, Sinkovo, Imperial Russia; died July 19, 1952, Moscow, USSR

Vasilii Stepanovich Baiuskin was a Soviet graphic designer, painter and illustrator. Born in a village north of Moscow, from 1911 to 1916 Baiuskin studied with the Sytinskaia, a group of artists that taught in a Moscow school operated by the prominent Russian publisher Ivan Sytin. From 1918 to 1920, Baiuskin continued his artistic studies at GSKhM (State Free Artistic Studios) / VHKUTEMAS (Russian State Art and Technical School). Around 1920, he began designing posters. In this capacity, Baiuskin worked in the art department at the 1st Exemplary Printing House of the State Publishing House of the USSR. As an illustrator, he designed books such as, "The Malachite Box" and "The Mistress of the Copper Mountain" (both by Pavel Bazhov), the 1950 novel "Drivers" by Anatolii Rybakov, and the historic fable, "The Hermit and the Bear" by the author Ivan Krylov. Baiuskin's graphic design credits include the dynamic advertisement for Rezinotrest galoshes (1925) as well as numerous covers for publications within the USSR. From the 1920s to the 1940s, Baiuskin designed and illustrated school textbooks for the USSR educational system. Vasilii Baiuskin was also a member of the Association of Book Artists (OkhK).

During World War II, the artist designed posters and illustrated leaflets for the war effort, and he painted portraits of soldiers. During this period, Baiuskin developed a series of graphics: "Defense of Tula" (1942) and "Sevastopol" (1945) and created the work "Germans in Iasnaia Poliana" (1943), a set of illustrations of the house museum of Leo Tolstoi that ultimately was destroyed during the war. The artist also elaborated the set of the live production "The Defense of Tula" for the Tula (Russia) theater. Vasilii Baiuskin's works have been exhibited at All-Union and international exhibitions. In December 1943, he participated in a group exhibition mounted in the halls of the former Moscow Partnership of Artists (MTKh).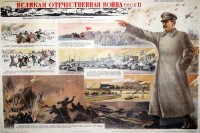 Fuentes
Anikst M., et al. (1987). Soviet commercial design of the twenties. New York: Abbeville Press. (p. 97, Rezinotrest galoshes advertisement, cited)
tramvaiiskusstv.ru
artinvestment.ru (dates of birth and death)