Dovzhenko, Grigorii Avksentievich
Довженко, Григорий Авксеньевич


Born April 22, 1899, Poltavka (Bashtanka), Russian Empire; died April 21, 1980, Kiev, Ukrainian SSR

Grigory Avksentevich Dovzhenko was a noted painter, monumental artist and muralist in the Ukrainian SSR. In 1928 Dovzhenko graduated from the Odessa Art Institute. Following graduation, he taught at the Kiev Art Institute and later in life, he was an instructor at the Kiev School of Decorative and Applied Arts. Upon commencing his professional career, Dovzhenko moved to Kiev. The majority of Dovzhenko's murals are located in Kiev, Odessa, Dnepropetrovsk and, during the 1950s, he supplied monumental and decorative applications to residential buildings in Novaya Kakhovka -- to name a few cities.

One of Grigory Dovzhenko's earliest works (from 1928) was his interior design for the Peasant Sanitorium of the All-Ukrainian Central Executive Committee (Khadzhibei sanitorium) near Odessa. Dovzhenko was also in charge of decoration and fresco work in cultural houses and in public buildings throughout Ukraine until the 1960s. He was a veteran of the Second World War and a member of the Communist Party. He also was a member of the Union of Artists of the USSR. In 1979, Dovzhenko was bestowed the title of Honored Artist of the USSR.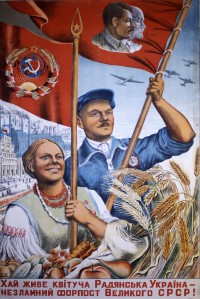 Fuentes
Solov'ev, V. D. (2005). Russkie khudozhniki XVIII-XX vekov: svodnyi spisok khudozhnikov, vstrechaiushchikhsia v spravochnoi literature. Moskva: Ekspert-klub. (Citation for Dovzhenko)
Artchive.ru (dates and locations of birth and death)
Live-necropol (date of death and burial location)
socrealizm.com.ua (Dovzhenko bio)