Kalenskaia, Irina Viktorovna
Каленская, Ирина Викторовна


Born January 24, 1928, Moscow, USSR; died 2006, Russia

Irina Viktorovna Kalenskaia was a Soviet graphic artist, an artist of monumental and decorative art, and she designed a myriad of political and social posters. Born in Moscow, Kalenskaia studied at the Moscow Regional Art Pedagogical School from 1944 to 1945. She then went on to the Moscow Higher School of Industrial Art where she graduated in 1954. Her thesis project was a sketch of a frieze for the Central Moscow Hippodrome, the largest horse racing track in Russia. Kalenskaia began exhibiting professionally in 1958. In the post-war era, she worked in easel drawings and in watercolor. Regarding her monumental and decorative works, a few of her most noted are: the mosaic "Glory to the miners" (co-designed in 1965 with Vladimir Kalenskii) made for the facade of the recreation center in Taşkomur, Kyrgyzstan; the mosaic "The plant during the Great Patriotic War and in peacetime" created for the entrance to the Gorky (Nizhny Novgorod) nuclear plant, in addition to other work. Beginning in 1969, Kalenskaia designed for the Creative and Production Workshop of the Art Fund of the Russian Soviet Federative Socialist Republic. Beyond her political poster designs, she created posters for state-owned farms, the state forestry department, a poultry farm in the city of Shchekino (in Vologda Oblast), and a weaving factory in Zaraysk, Moscow Oblast. Irina Viktorovna Kalenskaia was a member of the Union of Artists of the USSR.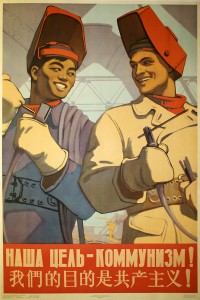 Fuentes
Glushko, N. N., et al. (2007). Deti-nashe budushchee. Moskva: Rossiiskaia knizhnaia palata. (year of birth and selected work cited)
Gorina, T.N. (1995). Khudozhniki narodov SSSR: Biobibliograficheskii slovarʹ v shesti tomakh. (Tom 6). Sankt peterburg: Gumanitarnoye Agentstvo Akademicheskiy proyekt. (bio, p. 72)
tramvaiiskusstv.ru (bio, works created)
painters.artunion.ru (date of birth)