Karpov, Boris Nikolaevich
Карпов, Борис Николаевич


Born April 24, 1896, Kremenchug, Poltava Province, Russian Empire; died March 21, 1968, Moscow, USSR

Boris Nikolaevich Karpov was a Soviet painter and graphic artist. Karpov first studied at MUZhVZ (Moscow School of Painting, Sculpture and Architecture) from 1917 to 1918 and then at the Ukrainian Academy of Arts from 1918 to 1920. During the 1920s, he became a member of the Society of Kiriak Kostandi, a prominent Ukrainian painter and art scholar who was part of the Russian realist artistic movement. Since the realist movement made an impact on Karpov's work; the artist chiefly designed in the vein of Socialist Realism popular during his career. In the early 1920s, Karpov lived in Odessa where he worked as an artist in the theater of revolutionary satire. He also served as an illustrator for Shkval (Squall) magazine and for the Black Sea Commune newspaper. Boris Karpov ultimately moved to Moscow. He was a member of the Union of Artists of the USSR. Soviet-era sources alternatively record Karpov's date of birth as July 5.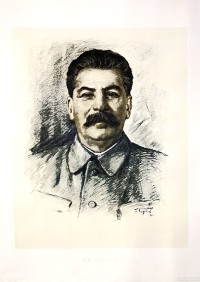 Fuentes
Plamper, J. (2012). The Stalin cult: A study in the alchemy of power. New Haven: Yale Univ. Press. (p. 56, May 1, 1945 portrait of Stalin by Karpov)
tramvaiiskusstv.ru (bio)
rusmuseumvrm.ru (Karpov at MUZhVZ as well as birth and death locations cited)