Kozlinskii, Vladimir Ivanovich
Козлинский, Владимир Иванович


Born April 21, 1881, Kronstadt, St. Petersburg, Russian Empire; died July 17, 1967, Moscow Region, USSR

Vladimir Ivanovich Kozlinskii was one of Vladimir Mayakovskii's artistic collaborators and he was the head artist of the Petrograd ROSTA (Russian Telegraph Agency) Studio. Reportedly, Kozlinskii was born at Kronstadt naval base on Kotlin Island just west of St. Petersburg. His artistic endeavors began when he attended the Drawing School of the Society for the Encouragement of Arts, enrolling in 1907. In addition to studying art under a number of private instructors, in 1911, Kozlinskii enrolled in IAN (Higher Art School of Painting, Sculpture and Architecture) in Moscow where he studied engraving. During this period, he became friends with Vladimir Lebedev, an artist who would later be an important Soviet graphic designer.

In 1910, Kozlinskii exhibited his works at the "Triangle Exhibit" in St. Petersburg. When the October Revolution swept across Russia during the post-World War I era, Kozlinskii took an active part in the creation of agitation design on the streets and squares of Petrograd (St. Petersburg) and Moscow. Among his book illustrations in the early part of his career was an album of linocuts titled, "October 1917-1918: Heroes and Victims of the Revolution" with text by Vladimir Mayakovsky.

Kozlinskii was appointed a professorship at SVOMAS (Free State Art Studios) in Petrograd. In 1920, he headed the Leningrad (St. Petersburg) branch of the ROSTA (Russian Telegraph Agency) Studio where he worked with his friend, Vladimir Lebedev. By the mid-1920s, Kozlinskii was a formidable graphic artist in the Soviet Union and the bulwark of his output concentrated on posters and illustrations. He also participated in two German exhibitions; the "First Russian Art Exhibition" at Van Diemen Gallery, Berlin and the "Art of the Book in Our Time" in Cologne. By the 1930s, Kozlinskii moved from poster art to working as a print-maker, book illustrator and set designer.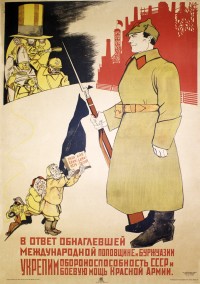 Fuentes
Posters of the Soviet Period. (2011). Auction catalogue of Mercer and Middlesex, LLC. New Jersey: Mercer and Middlesex, LLC.
pudl.princeton.edu (bio, Kozlinskii)
artinvestment.ru (dates of birth and death)
Baburina, N. I. (1988). The Soviet Political Poster, 1917-1980. New York: Penguin. (bio, artist)